Posted by Elena del Valle on September 2, 2015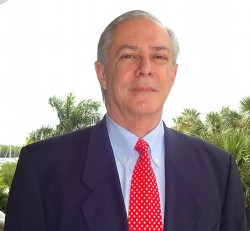 Ronald A. Lacayo, executive director, UTH Florida University
Photo: UTH Florida University
Targeting Spanish dominant immigrants from Central and South America looking to improve their economic prospects by completing their education with a college degree or obtain a second degree online in Spanish the Universidad Tecnologica de Honduras (UTH) is branching out. In August 2015, the owners of the Central American university and the Honduran-USA Chamber of Commerce announced the launch of UTH Florida University online.
Headquartered in Miami, Florida, UTH Florida University, a for profit entity, announced student registration in August 2015 and the beginning of classes September 1, 2015 at uthflorida.us. According to a press release distributed by UTH Florida University, the educational company is licensed by the Florida Commission for Independent Education. The Commission website indicates its functions include the licensure of independent schools, colleges and universities. All classes will be in Spanish and based on the Harvard Business School case method.
"We believe that on-line education is the disruptive innovation of the 21st century that will break the higher education paradigm and finally bring affordable and high quality education to everyone and everywhere thus allowing our communities and countries to grow and prosper," said Ronald A. Lacayo, executive director, UTH Florida University.
Administrators plan to offer 16 classes in the Fall 2015 semester and 32 for Spring 2016 with the support of 10 staff. They expect the offerings to increase each semester.
"We expect 250 students enrolled by the end of 2016 and 500 by 2018," said Lacayo by email. "Currently all of 80 faculty members are adjunct. Our staffing strategy is to seek maximum operating efficiency in order to pass along the savings to our students is the form of low and affordable tuition."
The new company hopes to set itself apart from other distance educational institutions by offering students affordable undergraduate degrees for $9,600 in Business, Marketing and Human Resource Management. Graduate degrees in Management and International Business Administration, Business and Finance, and Business and Marketing will cost $5,880. According to the press release, the Universidad Tecnologica de Honduras which was founded in 1986 and has over 15,000 students.