Posted by Elena del Valle on September 19, 2011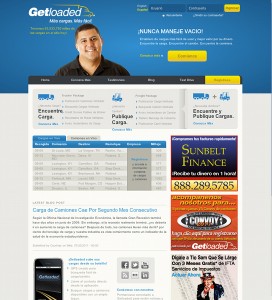 Getloaded.com Spanish language website – click to enlarge
Photos: Formula PR Inc.
In the United States, 8.9 million people are employed in trucking-related jobs; of those nearly 3.5 million are truck drivers, according to Truckinginfo.net, an online portal for the trucking industry established in 1995. The portal's Trucking Statistics page indicates there are 15.5 million trucks in the United States; one of every nine of the truckers is independent and the majority are owner operators.
Executives at Getloaded, an internet freight matching service, and PM Publicidad Partners, an advertising and marketing services company, believe there are many bilingual and Spanish dominant people among the 370,000 Hispanic truckers nationwide. This past July, they launched Getloaded.com/espanol, a Spanish language version of the main Getloaded website, hoping to capture their attention.
"Getloaded prides itself on innovation and we're excited to expand our services to include a Spanish-language, cutting edge platform to better support our clients as they seek to grow their business and avoid 'deadhead' miles," said Jon Stier, director of sales and marketing, Getloaded.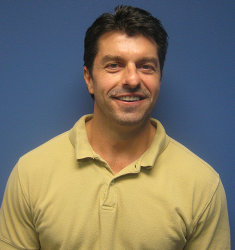 Jon Stier, director of sales and marketing, Getloaded
According to promotional materials, users of the new website will have access to the full functionality of Getloaded, including unlimited load searching and truck posting, freight holder credit scores, immediate notification when loads match their search criteria, and routing and toll information. Ten percent of the employees at Getloaded are Hispanic.
Eduardo Perez, president, PM Publicidad
"From the research results, we have concluded that while the majority of Hispanic truckers are bilingual, they seek and prefer resources in Spanish," said. Eduardo Perez, president, PM Publicidad. "The project was a transcreation of the English site with the aim to make it relevant for the Hispanic consumer. It was important to us and Getloaded that it wasn't simply a translation of the English version."
In making the decision to transcreate all 30 pages of their website into Spanish they relied on the Newport Communication 2005 Latino Truckers Survey which estimated that Hispanics represent approximately 25 percent of the owner and operator trucking segment in the United States. Also, PM Publicidad conducted ethnographic interviews and a quantitative survey to learn more about the profile of the Hispanic trucker.