Posted by Elena del Valle on July 27, 2012
Sam, Elida and Dulce Mejia-Perez outside of Quetzaltenango, Guatemala
Videlo, photos: POV, Theo Rigby, Katina Papson
In 2010, with a $10,000 budget and support from his graduate program, filmmaker Theo Rigby, with the help of three assistants, showcased the case of a family of five divided by the parents deportation from the United States many years after they entered the country illegally. Sin País (Without Country in Spanish), a 19-minute documentary style short film, follows the Mejia Family through the deportation process of the parents who leave the country with Dulce, their young daughter, while their two teenage children remained in the United States. Scroll down to watch a video clip in Spanish with English subtitles.
The film, a Student Academy Award winner, features tearful scenes in the family's home in the United States, rural takes with the parents and their youngest child on their return to Guatemala, interviews with the two teenagers, and a Christmas visit from the teenage daughter from the United States to Guatemala; the teenage boy could not travel because his immigration status was uncertain.
Filmmaker Theo Rigby
"I made Sin País to show some of the nuances and complexities of deportations, and to address how mixed-status families often grow deep roots in the U.S. over many years," said Rigby. "The film shows how deportations have vast ripple effects that often effect many U.S. Citizens, and as ICE deported a record number of people in 2011 (400,000), the story of Sin País resonates very deeply on myriad social and political levels today."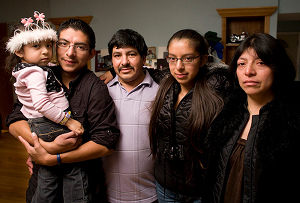 The Mejia-Perez family in California on the night of the deportation of Sam and Elida
The film was selected by Point of View (POV), a long running showcase that features the work of some of today's independent documentary filmmakers, and will air on on television nationwide in POV Short Cuts Thursday, August 9, 2012 at 10 p.m. on PBS. The one-hour program, part of the 25 anniversary season of POV, will also include The Barber of Birmingham: Foot Soldier of the Civil Rights Movement and three new animated shorts: Eyes on the Stars, Facundo the Great and A Family Man.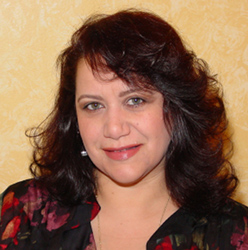 Cynthia Lopez, co-executive producer, POV
"About 1,200 documentaries are submitted a year and we select anywhere between 12-18 premieres. In terms of shorts, about 100 shorts are submitted to POV per season and we select approximately 6-8 per year. Highly competitive," said Cynthia Lopez, co-executive producer at POV by email when asked about the selection process.

Elida and Dulce Mejia-Perez
Rigby's work has focused on topics ranging from the war in Iraq to the justice system. For the past six years he has been making films about immigration issues in the United States. POV has brought 325 acclaimed documentaries to millions of viewers nationwide. POV Short Cuts will stream on the POV website from August 10 to September 9, 2012.