Posted by Elena del Valle on August 22, 2014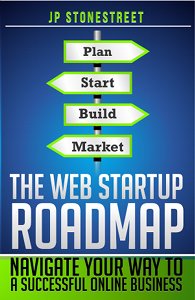 The Web Startup Roadmap
Photos: JP Stonestreet
After selling two websites in 2008, JP Stonestreet wrote The Web Startup Roadmap: Navigate Your Way to a Successful Online Business (Ripen Publishing, $22.95) to share his ideas about building an online business from scratch, marketing, running and preparing it for possible sale.
"The biggest challenge was the actual writing of the book. It's over 300 pages! I had no idea it would be that long when I started writing it. If I had it to do over again, I'd split it up into 3 different books that are much shorter. Readers like smaller books better, too. Especially when the content is challenging," Stonestreet said by email in response to a question about the challenge of writing the book.
An understanding of a small target audience is necessary at the beginning, he says in the book. Once your idea proves successful you can expand your audience. He lists several examples of companies that started targeting a niche audience and grew their audience over time.
When asked who his book audience is he said, "I wrote this book for non-technical people who want to start an online business or expand their current online presence but aren't sure what to do or even where to start. The web is accessible to everyone, but understood by very few in comparison. My goal was to lift the veil and help more business owners understand how they can use it to build and grow their businesses."
A good idea that is well developed is also necessary, as is offering something that sets you apart from competitors, he says, describing traits successful start-ups share.
In the book, he discusses business models he believes work online. The 300-page softcover book, published in 2012, is divided into five sections: Planning for Success, Starting Your Startup, Building Your Website, Marketing Your Website, and Running Your Business. In the third one he outlines his ideas about web business essentials.
JP Stonestreet, author, The Web Startup Roadmap
For him, "The biggest takeaway from publishing the book was to start promoting it before you even start writing it. After I sold my company, I wanted to document all the lessons I learned so I'd remember them. After writing pages and pages of notes, I decided to put them in a book, which led to The Web Startup Roadmap. Unfortunately, I didn't think to promote it until it was written and published so I missed out on a lot of opportunities to raise awareness and attract press coverage. The lesson I share with everyone is to start promoting your book on social media and to your following as soon as you get the idea and the title."
In the final two sections, he discusses marketing strategies such as affiliate marketing, advertising, social media, emails and search engine optimization; and the aspects of growing the business beyond the initial stages toward an eventual sale.
The biggest takeaway for readers? "The first section of the book discusses my long list of failures and the lessons I learned from them. If readers only take one lesson from the book, it should be the value of perseverance. Failure is inevitable if you're a risk taker, but success is inevitable if you don't let failure stop you from trying," the author said.
---
Click to buy The Web Startup Roadmap
---