Posted by Elena del Valle on October 21, 2011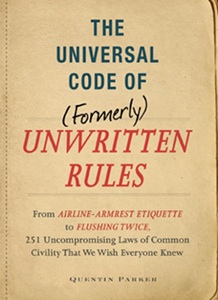 The Universal Code of Formerly Unwritten Rules book cover
Photo: Adams Media
Politeness is the glue that binds us. Holding a door open for someone or introducing a colleague to another at an event are common courtesies we may not event stop to think about. Some of these rules may be informal and vary depending on the setting, part of the country (or world), culture and so forth. Sometimes it's challenging to avoid getting in the proverbial foot-in-of mouth situation which could prove tricky or embarrassing at work or when with colleagues from work.
Quentin Parker, a journalist and teacher, has a possible answer to those times, his own code of conduct. It includes simple concepts that may appear obvious such as "Never hog both armrests when you fly; and doorways, staircases, and elevator entrances are inappropriate spots to stop and chitchat."
His rules, somewhat tongue in cheek, were recently made available to others in the form of a book, The Universal Code of Formerly Unwritten Rules: From Airline-Armrest Etiquette to Flushing Twice, 251 Uncompromising Laws of Common Civility That We Wish Everyone Knew (Adams Media, $13.95), published this year.
The 234-page softcover book is divided into seven chapters. Chapter 2, from pages 33 to 60, is dedicated to Unwritten Rules in the Workplace. Some rules in other chapters may also apply to work situations. Many rules in Chapter 6 about spoken and written communication may appeal to those in the work place. For example, Unwritten Rule #185 One should never write an entire e-mail in all capital letters.
---
Click to buy The Universal Code of (Formerly) Unwritten Rules
---