Posted by Elena del Valle on June 4, 2010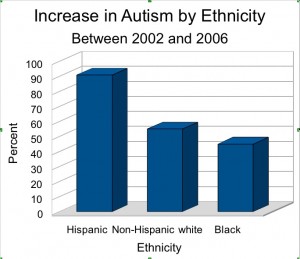 Click on image to enlarge (Source: CDC, Chart: HispanicMPR)
The incidence of autism is increasing. In a December 2009 report by the United States Centers for Disease Control and Prevention (CDC) about the condition, the government researchers confirmed that the prevalence of autism spectrum disorders in the United States is 1 percent of the population, or one in 110 of children 8 years of age in 2006.
This may alarm some people because autism has been a much misunderstood developmental condition. Autism sufferers are unable to interact normally within society. According to the National Institute of Neurological Disorders and Stroke, Autism Spectrum Disorder (ASD) "is a range of complex neurodevelopment disorders, characterized by social impairments, communication difficulties, and restricted, repetitive, and stereotyped patterns of behavior."
Boys are four times more likely to suffer from autism than girls. The disorder occurs across ethnic, age and socioeconomic groups. Increases of autism among children including some minorities between 2002 and 2006, according to the CDC report, were significant: there was a 91 percent increase in Hispanic children (noteworthy was a 144 percent increase in Arizona); a 41 percent in black non-Hispanic; and a 55 percent increase in white non-Hispanic.
At the same time, it seems possible Hispanic children are diagnosed accurately with autism less frequently than other children. A Reuters Health article refers to a 2009 American Journal of Public Health article that in turn cites a study in Texas schoolchildren that may indicate Latino children in that state are under diagnosed because they are less likely to have health insurance or access to medical care. Is it possible this is the case in other states?
According to a recently published book, every 20 minutes a child is diagnosed with autism. Yet no one knows why cases of autism are increasing worldwide.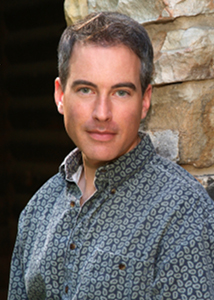 Author William Stillman
William Stillman, an adult sufferer of Aspeger's Syndrome (a milder condition on the autism spectrum), has explored and written about the issue extensively. This year, he published The Autism Prophecies How and Evolution of Healers and Intuitives Is Influencing Our Spiritual Future (New Page Books, $14.99) with the goal of revealing what he believes to be the truth about autism and its purpose.
He is convinced mind control and speaking unknown languages could be among the abilities possessed by some people with autism; that it is possible for parents to distinguish between their child's spiritual interactions and what some might consider hallucinations; and that autism sufferers posses wisdom that may help society prepare for future hardships, resulting in a rebirth of civility, respect, and compassion.
"Given the growing rates of autism worldwide, the face of business will be required to adapt in the coming decades so that individuals with autism can contribute as taxpaying citizens, not citizens that tax an already overburdened system," said Stillman by email when asked about the impact of autism in the business community.
"In the same manner that industries presently serve our aging population, individuals with autism will be poised for success in partnership with businesses that will adjust to meet their needs as consumers, and will redefine business approaches that tap the unique skills and talents of those same consumers. Many people with autism will always require physical care and support but their cognitive ability to problem-solve, conceptualize, and apply a rare and alternative logic can be maximized to great advantage in the future."
The Autism Prophecies book cover
The 205-page paperback book is divided into nine chapters within three parts: Healers, Mysterious Ways and Future Forecasts. In the book, he shares comments he has received from the parents of autistic children he has met through his work and as a result of prior books he has authored. He also shares examples of what he believes are autistic sufferer's spiritual gifts and anecdotes about the possible sensitivities of people with autism.
Described in promotional materials as an autism spectrum self-advocate, consultant, and speaker Stillman authored The Soul of Autism and Autism and the God Connection prior to writing this book. The Pennsylvania resident also wrote The Autism Answer Book, Empowered Autism Parenting, and Demystifying the Autistic Experience. Stillman also writes columns for The Autism Perspective and Children of the New Earth magazines.
---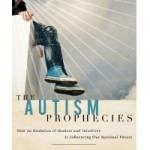 Click here to buy The Autism Prophecies
---