Posted by Elena del Valle on September 30, 2014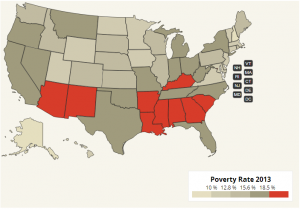 Talkpoverty Map – click to enlarge
Map: TalkPoverty.org
Rising stocks lifted household wealth 1.7 percent, according to the Federal Reserve, to $81.5 trillion between April and June of this year (see Household Net Worth Has Rebounded, The New York Times September 19, 2014 and Americans' net worth climbs to record high, Associated Press, September 18, 2014). The numbers don't account for inflation. They were adjusted for the change in the Consumer Price Index.
Household wealth reached a record high, 4 percent above the 2007 figures. The improvement in household wealth is especially evident among the wealthiest households. While the net worth of some Americans reached a record high poverty remains elevated, and there was an increase in new debt, mostly from auto and student loans.
Using data released by the U.S. Census Bureau, TalkPoverty.org, a project of the Center for American Progress's Half in Ten Education Fund, recently released an interactive state by state map with congressional district level poverty data for 2013 designed to showcase the impact of poverty across the nation. It can be found at http://talkpoverty.org/poverty/
The tool relies on seven key indicators: the total poverty rate; the women in poverty rate; the child poverty rate; and the poverty rate among African Americans, Asian Americans, Native Americans, and Latinos. It also includes a ranking of states' total poverty rates and child poverty rates.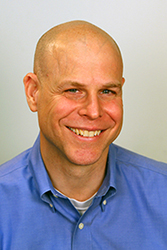 Greg Kaufmann, editor, Talkpoverty.org
"We haven't made nearly enough progress to reduce poverty nationwide, and both low- and middle-income families are still struggling to recover from the Great Recession," said Greg Kaufmann, editor of TalkPoverty.org and senior fellow with the Half in Ten Education Fund, in a press release. "At the state and local levels, we see the disparate impact of poverty, particularly among women and communities of color. The latest round of Census data sheds light on the reality of poverty in our own backyards, and should be a wake-up call to policymakers that we can and must do more to drastically reduce poverty."
The Center for American Progress suggestions to reduce poverty, boost economic security, and expand the middle class include raising the minimum wage; increasing the Earned Income Tax Credit, or EITC, for childless workers; supporting equal pay; providing paid leave and paid sick days; investing in affordable, high-quality child care and early education; and expanding Medicaid.
Launched in May 2014, TalkPoverty.org is an online hub dedicated to "providing in-depth analysis and educational resources about poverty in America and what we can do at the local, state, and federal level to dramatically reduce it."