Posted by Elena del Valle on November 30, 2011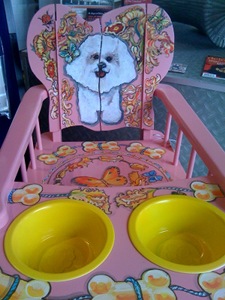 Bone Appetite Seat, a highchair for dogs
Photo: Talin Tropic Co., Cathy Ahles
Every day since 2005 Oswaldo Cuadros, owner, Pet Sitting at Weston or one of his staff walk, play, feed, drive or just hang out with somebody else's pets. They look after 690 animal clients, 460 dogs, 165 cats, 39 birds and 26 other types of lovable creatures. The affluent human, 98 percent white and 2 percent Hispanic between 40 and 50 years of age, clients pay his company between $7,000 and $1,000 a year, depending on their needs, to provide pet care.
These expenditures are not surprising when we take into account that 76 percent of dog/cat owners consider their pet to be part of the family, according to America's Pet Owners US September 2011, a Mintel report. At the same time pet ownership is growing. In the past 20 years the number of American families owning a pet has increased 10 percent.
In 1998 56 percent of households owned a pet. By 2008, 72.9 million homes or 62 percent of households in America owned a pet (APPA 2011-12 National Pet Owners Survey). And, consumers are spending money on their pets.
Fancypants, a Jack Russell Terrier who was "copilot" for 13 years
This holiday season, more than half of Americans plan to spend $46 on average to buy gifts for their pets such as toys (68 percent), food (45 percent), new bedding (8 percent), clothing (6 percent), a leash, collar or harness (3 percent) or new grooming products (3 percent), according to a new AP-Petside.com poll.
The pet industry is expected to generate $50.8 billion U.S. 2011 spending, according to American Pet Products Association (APPA) figures. This year's revenues should represent a record for the industry which has been growing steadily between 2002 and 2011. The increase in sales of pet products and services that has overcome one of the country's worst recessions demonstrates customers strong bonds with their pets which in some cases appear to serve as surrogate family members. Mintel researchers estimate a 33 percent growth for this market segment to a high of $67.7 billion in 2016.
An example is the Bone Appetite Seat, a customized seat that allows pets 30 pounds or less to join their owners at the dinner table within their own space. The poplar product was developed by Talin Lyman, president, Talin Tropic Co. of Boca Raton, Florida.
"There is really no target age market, I get people of all ages who have pets who love the chair! I believe it is for a more high end audience, as it is a piece of art and is a higher price range. All hand made by me. I offer custom pillows and cushions out of my fabric line for the chairs. People can buy the chairs and or all of my products directly from me, My websites, and also there are a few stores who carry my products as well," said Lyman by email in response to a question about the seat and her other pet products.
The highchairs, hand painted to the customers specifications and sometimes with their dog's portrait, retail for $950 to $1,500. The back of the seat opens allowing the dog to climb up little steps through the rear of the chair. Custom chairs are available for larger dogs, according to the Bone Appetite Seat website. It takes two weeks for a chair to be completed plus shipping time for out of town orders.