Posted by Elena del Valle on July 11, 2012
A scene from Bartali
Photos: Vme
In 2006, Rai Fiction and Endemol produced Bartali in Italy about Gino Bartali, an Italian cyclist who won the Tour de France twice. Directed by Alberto Negrin starring Pierfrancesco Favino, Simone Gandolfo, Nicole Grimaudo and Carlo Giuffre with a musical score by Ennio Morricone, described in promotional materials as one of the most influential film music composers of the 20 century, Bartali will air as a four-part miniseries on Vme beginning at 9 p.m. ET/PT July 16.
Dubbed into Spanish it may be the first time the series is airing in the United States. The program is scheduled to air for four nights and each episode is two hours long. Favino plays Gino Bartali while Grimaudo plays Adriana Bartali, Gandolfo plays Fausto Coppi and Giuffre plays Cardinale Dalla Costa.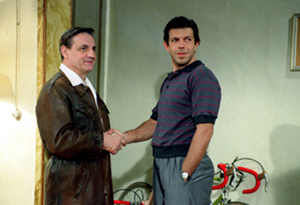 A scene from Bartali
As a youngster Bartali nearly abandoned cycling following the death of his brother Giulio in a race. He continued cycling with the help of his brother Leone and his faith. In 1938, he won the Tour de France in honor of his brother's memory.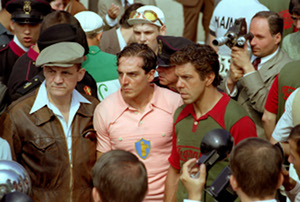 A scene from Bartali
A devout Catholic, Bartali's religious and moral beliefs led him to use his cycling talents to assist his friend Cardinal Dalla Costa and the Italian resistance during the war. In 1948, Italian Prime Minister De Gaspari asked Bartali to help ease political tensions by winning the Tour de France again and he did. Many historians believe, according to promotional materials, that the national enthusiasm that resulted from his second victory helped prevent a civil war.
Vme, a 24-hour Spanish language network partnered with public television stations, offers drama, music, sports, news, current affairs, food, lifestyle, nature and educational preschool programs. The network estimates it reaches more than 10 million Hispanic homes. Vme is the first venture of the media production and distribution company, Vme Media, Inc.