Posted by Elena del Valle on August 12, 2011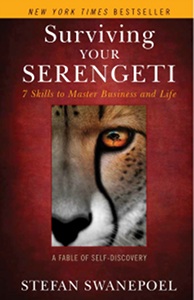 Surviving Your Serengeti book cover
Photos: Wiley
A salesman and entrepreneur born in Kenya believes it makes sense for business people suffering in the down economy to seek inspiration from some of the better known animal species in East Africa's Serengeti and their behaviors. He proposes seven skills today's executives should learn from the plains animals who make a thousand mile seasonal journey fraught with challenges and danger.
In Surviving Your Serengeti: 7 Skills to Master Business and Life (Wiley,$21.95) Stefan Swanepoel outlines a fable of a beleaguered California business owner and his wife on a safari trip to the Serengeti. On their first night in a safari tented camp in Tanzania, they run into a college acquaintance of his who describes the skills of each of seven animals he has been observing in their natural habitat.
He believes the skills humans can emulate are based on the animals' unique survival skills. The seven he highlights are: Wildebeests stand out for their endurance, lions for their strategic hunting abilities, crocodiles for their enterprising nature, cheetahs for their efficiency, giraffes for their grace under stress, mongooses for their risk taking, and elephants for their superior communication skills.

Stefan Wanepoel, author, Surviving Your Serengeti
The 176-page hardcover book is divided into nine chapters, an introduction, one to describe within the story each of the animal's skills, and a final chapter where he wraps up the story and his concept as well as an Epilogue.
According to his bio, prior to writing the book, one of nineteen he has authored, Swanepoel ran a New York-based franchise network with 25,000 sales staff in 30 countries. A resident of California he has been president of seven companies and two nonprofit organizations.
---
Click to buy Surviving Your Serengeti
---