Posted by Elena del Valle on February 11, 2011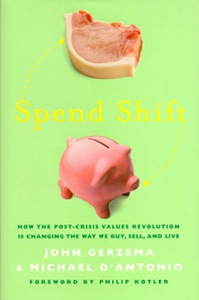 Spend Shift book cover
John Gerzema, a social theorist on consumerism at Young & Rubicam, and Michael D'Antonio, a Pulitzer prize winning author of twelve books, believe the recession is changing people's values. They think many people are returning to self reliance and focusing on economizing while maintaining a positive attitude.
They interviewed representatives from fifty companies in dozens of communities in eight states and share some of their findings in Spend Shift How the post-crisis values revolution is changing the way we buy, sell, and live (Jossey-Bass, $25.95), a 256-page hardcover book published in 2010.
They concluded, based on their research, that 55 percent of Americans across all walks of life, income levels, political affiliations and geographic locations have embraced this shift in spending values; and that another quarter of adults share that revised focus on values. While Millenials (those born between 1980 and 1998) are at the head of the movement surprisingly almost half of seniors favor the revised spending attitudes.
The informal movement is characterized by optimism, according to the authors. Followers are learning to live with less income while seeking, and in some cases finding, greater satisfaction and happiness than in the past.
The book includes a foreword by Philip Kotler, S.C. Johnson Distinguished Professor of International Marketing, Kellogg School of Management, Northwestern University. He indicates that more than half of our country's population is adopting the value shifts. He says "They are seeking better instead of more, virtue instead of hype and experiences over promises"; and that "People are looking for value and values."
The book is divided into an Introduction and eight chapters titled: The New American Frontier: Detroit, Michigan; Don't Fence Me In: Dallas, Texas; The Badge of Awesomeness: Boston, Massachusetts; An Army of Davids: Tampa, Florida; Block Party Capitalism: Brooklyn, New York; The Quality of the Lion: Las Vegas, Nevada; The Citizen Corporation: Dearborn, Michigan; Innovation Nation: San Francisco, California; and Coda: The Takeaway: Los Angeles, California.
Two thirds of the people who responded to the authors BrandAsset Valuator said they feel they can, through their purchasing habits, have an impact on corporations; supporting companies who share their values and avoiding those with opposite values.
Gerzema, who relies on data to identify social change to prepare companies wanting to adapt to and anticipate consumer demands, is the author of The Brand Bubble. D'Antonio, formerly with Newsday, is the author of Hershey, a biography, among other titles.
---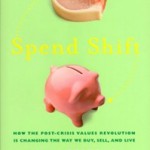 Click to buy Spend Shift
---