Posted by Elena del Valle on November 15, 2013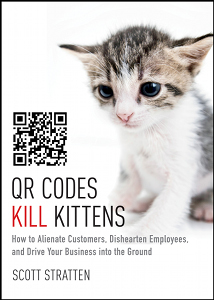 QR Codes Kill Kittens
Photos: Wiley
A quick response code or QR code for short is a type of bar code that requires a smart phone and an app to read it. According to Wikipedia, it is a kind of two-dimensional barcode that can be read optically by a machine. It is used to read information. If the app is able to read the QR code it was made correctly. Once the app reads the code it should lead the user to a mobile device friendly link or website.
QR codes have become common marketing tools, appearing on products, billboards, bus stops and so forth. The problem, according to Scott Stratten, president of UnMarketing, is that most QR codes don't work. He believes it is because many people are too focused on using codes without paying enough attention to functionality. He proposes that if it mattered people would make sure they worked when they launch them.
Scott Stratten, author, QR Codes Kill Kittens
"If you knew that your terrible business decisions could cost a kitten its life, would you still do it? Of course not. No one wants to hurt a kitten, and no one wants to damage their own business through easily avoidable mistakes. The trick is, knowing which things are the wrong things to do," Stratten said.
To make his point he wrote QR Codes Kill Kittens: How to Alienate Customers, Dishearten Employees, and Drive Your Business into the Ground (Wiley, $18), a 196-page hardcover small book focused on what goes wrong when QR codes don't work.
The four color book is easy to read and often humorous. It includes photos on almost every page. It is divided into four sections designed to showcase why QR codes represent what's wrong with business today including; They Don't Work, Nobody Likes Them, They are Selfish and They Take Up Valuable Time Better Spent Elsewhere. Stratten, ranked among the top online influencers by Forbes.com, is also author of Unmarketing.
---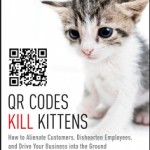 Click to buy QR Codes Kill Kittens
---