Posted by Elena del Valle on June 11, 2012

The Scent of Departure Paris
Photos: The Scent of Departure
Ever want to visit Singapore, Budapest or Istanbul but didn't get a chance? Or perhaps you visited those exotic cities and want to reminisce about your trip? A new perfume line, launched in 2011, promises scent lovers the essence of those cities and 17 others including three in the United States in a $45 1.7 ounce bottle. If blood orange, sweet orange, lemon, yellow tangerine, pink grapefruit, lotus flowers, freesia, lilac, orange jump, white musk, blonde wood, vanilla, and caramel remind you of Miami you are in luck. Those are the ingredients in the line's Miami eau de toilette fragrance.
Caramel can also be found in New York if the perfume makers are to be believed. In addition to caramel they made that city's namesake fragrance with green and crispy apple, juicy apple, lotus flower, jasmine, lilac, rose petal, caramelized apple, white musk, and vanilla. Tokyo on the other hand smells like lemon, bergamot, green stem, lotus flower, freesia, ozonique flowers, peony and white musk, according to them.
This could be a good time to introduce such a line, allowing it to be in place for the year's Christmas holidays which, according to Mintel, is when most perfume buying takes place in the country. Perfumes and products with fragrances seem to be popular among United States consumers. In a survey last year, many (29 percent) domestic consumers said they bought someone a fragrance (25 Stocking Stuffers from Mintel, Holiday Shopping U.S. July 2011 and Seasonal Chocolate U.S. August 2011 Mintel survey reports). In 2005, the average annual consumer spending of Consumer Units (there were 2.5 persons per Consumer Unit; Consumer Unites appear in 000s) on cosmetics, perfume and bath products was 132.31 (Household Spending 12 Edition), the highest segment by far of the Personal Care Products category.
Magali Senequier and Gerald Ghislain
Gerald Ghislain, perfumer, and Magali Senequier, his creative partner, used the IATA (International Association of Travel Agents) assigned three letter airport codes for 20 cities to name The Scent of Departure line which, according to a company spokesperson, is made in Paris, France. They selected cities they had visited and liked for the line targeted at "men and women who love to travel or discover trendy and atypic products," according to the spokesperson. Prior to this line they launched Histoires de Parfums.
The fragrance is contained in a slender glass bottle sporting the letters for that city with a design inspired by a luggage tag with the three IATA code letters of the city that it represents. The initial scents are: Paris (CDG), London (LHR), Milan (MIL), Frankfurt (FRA), Munich (MUC), Keflavik (KEF), Istanbul (IST), Budapest (BUD), Vienna (VIE), New York (NYC), Los Angeles (LAX), Miami (MIA), Dubai (DXB), Abu Dhabi (AUH), Doa (DOH), Singapore (SIN), Tokyo (TYO), Hong-Kong (HKG), Seoul (ICN) and Bali (DPS). The company plans to sell the line at airports, large retail stores, Henri Bender in New York and at its website, thescentofdeparture.com.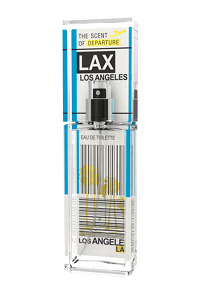 The Scent of Departure Los Angeles
If as Jennifer Dublino, chief operating officer, Scent Marketing Institute, said "Scent is particularly important to Latinos, even more so than to other cultural groups," (see Scent Marketing Connects to Hispanics on a Deep Cultural Level) this new line could appeal to Latino consumers in the United States and Latin America.
It is noteworthy that the three cities in the United States included in the line, Los Angeles, Miami and New York City, have some of the largest pockets of Latinos in the country. Some might wonder if the inclusion of well liked cities like Paris and London will make up for the absence of Latin American cities in the line. Will the oversight displease United States Latinos? Will Latinas who, according to Dublino, use fragrance products much more frequently than non-Latinas because they are an important part of their feeling of femininity, respond to the marketing concept of the line?