Posted by Elena del Valle on April 29, 2011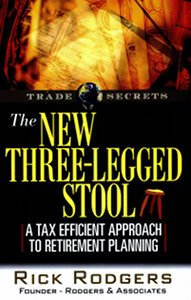 The New Three-Legged Stool book cover
Photos: News and Experts
Rick Rodgers, a certified financial planner and certified retirement counselor, believes the federal and state government is after your money. Well maybe not your money exactly but your retirement money as a part of a larger whole. He is optimistic that some simple adjustments will make it possible for tax payers to pay less in taxes in preparation for their retirement. In his 2009 book, The New Three-Legged Stool A Tax Efficient Approach to Retirement Planning (Marketplace Books, $24.95) he explains his reasoning.
"The IRS sees a huge amount of collective dollars, $17 trillion, to be exact, stashed away in IRAs and retirement savings," said Rodgers. "This has caused the IRS to become very aggressive in taxing those assets. While you might not think the IRS is after your retirement money, they actually have a big red bull's-eye painted on your retirement plan. As of September 2010, our country's national debt totaled more than $13.5 trillion (and the number continues to rise by $2 million every minute!). That amounts to $121,600 of debt for each taxpayer in the United States. Yet this is a mere drop in the proverbial bucket compared to what the government will owe in benefits to Social Security and Medicare recipients far into the future, as well as in pensions to military and civilian government workers."

Author Rick Rodgers
The 202-page hard cover book is divided into an introduction and six chapters: Leg One: Tax-Deferred Savings Strategies; Leg Two: After-Tax Savings Strategies; Leg Three: Tax-Free Savings Strategies; Distributions: Strike an Ideal Balance Among All of Your Accounts; Understanding Social Security; and Keep the IRS Out of Your Estate.
The three legs of the stool are tax deferred strategies to save which addresses IRA accounts, 401 (k) and other tax deferred retirement vehicles; strategies to save after taxes which addresses asset allocation, risk reducing options and structuring investments in a tax efficient manner; and tax free strategies like the Roth IRA and Roth 401 (k) and ways to convert accounts into them.
Rodgers is an author, keynote speaker, wealth manager and president of Rodgers and Associates in Lancaster, Pennsylvania. His articles on retirement planning have appeared in Wealth Manager magazine, CPA Magazine and Physician's Money Digest. He also writes a column for Lancaster County Magazine.
---
Click to buy The New Three-Legged Stool
---