Posted by Elena del Valle on July 1, 2016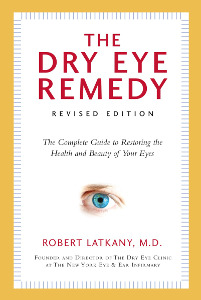 The Dry Eye Remedy
Photos: Hatherleigh Press
Do your eyes often feel tired? At the end of the day are they sore, burning? You may have dry eye. If so you are not alone. Dry eye is "not having enough quantity and/or quality of tears to coat the surface of the eye that can result in symptoms such as blurry vision, dryness, irritation, burning, foreign body sensation, and even pain," according to Robert Latkany, M.D., founder, The Dry Eye Clinic at The New York Eye & Ear Infirmary.
In The Dry Eye Remedy Revised Edition The Complete Guide to Restoring the Health and Beauty of Your Eyes (Hatherleigh,$15.95) a 218-page soft cover book published in 2016, Latkany discusses the topic. The title, which he developed over a year from idea to publication, is an update to his first book on the same subject published in 2007. His target audience is anyone who suffers from dry eyes, from post menopausal women to the young contact lens wearing crowd.
When asked by email what prompted the release of the revised edition, he replied, "I figured 9 years later an update was needed as there were a lot of advances in diagnostic testing and some advancement in therapeutic options now available that the public needed to know." To the question in what ways exactly is the new edition different from the original? he said, "
There is a lot of new information on new diagnostic testing available in the eye doctor's office.  And there are a few new therapies.  So these two sections had the most changes."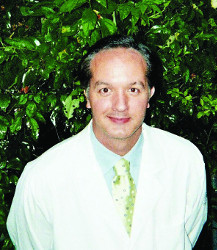 Robert Latkany, author, The Dry Eye Remedy
While inflammation is a major cause of dry eye not all dry eye patients have inflammation, the ophthalmologist explained when asked if dry eye was another term for inflammation. Other causes of the condition include cosmetic surgery, stress, and allergies. On the good news front, it is possible to remedy dry eye with nutrition and lifestyle changes alone.
"What you eat and what you are around and the daily stresses of life can have a major impact on dry eyes," said Latkany, who is considering writing a book about ocular rosacea and allergies in the eyes.
When asked about the rewards to writing the books he said, "I have performed many different eye surgeries, including cornea transplants, cataracts and laser eye surgery and to improve vision on someone is very rewarding. But to make a neglected debilitated dry eye patient happy and feel more comfortable is extremely rewarding. They are very grateful."
Dry eye, which can range from mild discomfort to serious, affects tens of millions of Americans and has no cure. Among sufferers more women than men (two to one, according to the National Eye Institute) are afflicted by dry eye, Latkany points out in the book.
---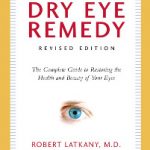 Click to buy The Dry Eye Remedy, Revised Edition
---