Posted by Elena del Valle on August 14, 2015
The Rise of the Platform Marketer
The Rise of the Platform Marketer
Photo: Wiley
Craig Dempster, and John Lee, both executive vice presidents at Merkle, a marketing agency, believe success in marketing today depends on technology and scale. In The Rise of the Platform Marketer: Performance Marketing with Google, Facebook, and Twitter, Plus the Latest High-Growth Digital Advertising Platforms (Wiley, $30), a 228-page hardcover book published this year, they discuss their strategies and the reasoning behind it.
"The opportunity of addressability at scale makes it an incredibly exciting time to be a marketer," Dempster said in press materials. "These audience platforms enable us to connect with customers in more targeted, customizable, intelligent, and measurable ways, so that every customer receives an ideal experience, perfectly suited to their needs, devices, preferred channels, and more."
In the book, meant as a foundation for their company's 12 annual Performance Marketing Executive Summit, they propose nine competencies meant to span across data, execution, and the enabling technology. They believe mastering them will allow marketers to create, deliver, measure, and optimize customer-centric experiences across digital platforms. The authors did not reply to questions submitted via their publisher.
"The Platform Marketer isn't an individual per se, but more a collection of skills that encompass many different disciplines," Lee said in press materials. "When an organization can learn how to apply these skillsets, their ability to connect with customers and drive revenue grows enormously."
The authors believe success driving digital performance requires expertise in data, analytics, and audience experience as well as an understanding of the new audience platforms. The nine competencies they point out as necessary are: audience management, identity management, consumer privacy and compliance, technology, platform utilization, measurement and attribution, media optimization, channel optimization, and experience design and creation.
---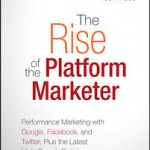 Click to buy The Rise of the Platform Marketer
---