Posted by Elena del Valle on February 5, 2016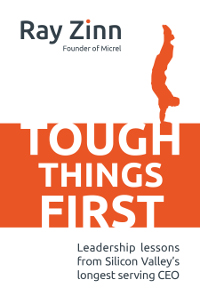 Tough Things First
Photos: McGraw Hill
When as a young man Ray Zinn decided to drop out of college he learned a lesson in discipline from his parents that influenced his life and eventually his career. In time he became convinced that we must do the things we don't want to do because they are either not fun or look too imposing ahead of easy ones. This belief served him well when in 1978 he co-founded Micrel, a company that sells electronics for smartphones, consumer electronics and enterprise networks. He led the profitable company for 37 years until his retirement last year.
In Tough Things First Leadership Lessons from Silicon Valley's Longest-Serving CEO (McGraw Hill, $25), a 250-page hardcover book published this year, he shares his approach to business and leadership for an audience of entrepreneurs and business leaders. He is convinced that good leaders learn to love and embrace the distasteful tasks in their lives once they understand how important they are to their careers and success.
"I wanted to synthesize my 37 years of running a high tech company, with the purpose of inspiring and helping the up-and-coming entrepreneur in running their businesses correctly," he said by email via his publishing company when asked about the main reason he wrote the book.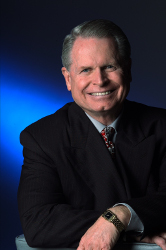 Ray Zinn, author, Tough Things First
The book is divided into nine chapters and an epilogue in two parts: Business as a body: disciplining an organization from head to foot and Entrepreneurialism: building companies that last through the ages. Each chapter ends with a bullet point list of lessons. He wraps up highlighting seven aspects he believes are necessary to start a company. They are: outlining financial milestone goals, preparing an exit, establishing principles, coming up with a plan for the unexpected emergency that will come up sooner or later, striving for calm and good mental health, preparing for the long term, and being humble.
"The biggest surprise is the effort and cost to market the book," he said. "Publishers today rely on the author far too much for marketing, and reaching broad audiences takes effort."
Zinn founded Mentor Capital, an entrepreneur accelerator, to support the efforts of innovators wishing to establish new companies and to change the leadership foundations in Silicon Valley and beyond. He said the greatest challenge to the three year long book project for him was being legally blind. Tough Things First was his first book.
---
Click to buy Tough Things First
---