Posted by Elena del Valle on July 6, 2011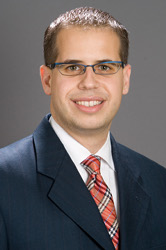 Oscar Ramos, senior director and general manager, ESPN Deportes Radio
Photos: ESPN Deportes Radio
Starting last week ESPN Deportes Radio began offering exclusive live broadcasts of the Copa America 2011 through July 29, 2011. The network's soccer commentators are scheduled to broadcast all 26 matches live from Argentina across multiple platform and present special post-game shows. The first broadcast was of the Argentina versus Bolivia game on July 1.
On July 11, Mario "El Matador" Kempes, a representative of ESPN Deportes and an Argentinean World Cup champion, will be calling the Argentina versus Costa Rica match for the network in a stadium that bears his own name in Córdoba. He will also provide his expert analysis on Argentinean matches. ESPN Deportes Radio soccer experts covering the championship include Jorge Ramos, Jairo Moncada, Omar Orlando Salazar, Hernán Pereyra, Manuel Kun, and Ricardo Mayorga.
"We are excited about bringing our listeners into the action at Copa America 2011 with our extensive live coverage from Argentina," said Oscar Ramos, senior director and general manager, ESPN Deportes Radio. "In addition to the live games, our programming line-up will allow for great interaction between our listeners and their favorite experts which will undoubtedly make for some great debates in our wide range of news and talk shows."
Jorge Ramos and Hernan Pereyra of Jorge Ramos y su Banda
ESPN Deportes Radio plans to present Después de la Copa, a post-game show with analysis of each day's games. Jorge Ramos y su Banda, the radio network's signature soccer talk show, is scheduled to broadcast on location throughout the entire tournament.
Also planned is best in class Copa America 2011 analysis and commentary and a daily special edition of Fuera de Juego at 1 a.m. EST. Ciro Procuna, Rafa Puente, and Fernando Schwartz will be reporting from Argentina.
ESPNdeportes.com plans to feature extensive Copa America 2011 coverage in a dedicated section with pre and post analysis of the matches, statistics, online videos, and podcasts. Online coverage will include blogs, editorials, and chats with ESPN Deportes talent reporting from Argentina. ESPN Deportes Radio is a United States national Spanish-language sports radio network.