Posted by Elena del Valle on September 30, 2011

The Pursuit of Happiness book cover
Are wealthy people happier than poor and middle class people? Is a person's state of happiness a reflection of his or her income? In other words, must income be tied to happiness? What is the relationship between the two? Is it more important to reduce misery or to improve a person's emotional well being? Is well being tomorrow a good reason to sacrifice happiness today? Everyday people and veteran researchers continue to seek the answers to these questions, especially in the past decade.
This has prompted a burgeoning collaboration between economists and psychologists. Some countries have begun to examine and measure economic happiness issues and address their possible public policy implications. The Brazilian, British and French governments have established programs to measure happiness in relation to their country's progress. From a big picture perspective this is a novel and controversial approach.
Should nations dedicate resources toward improving their citizens state of contentment or their economic well being? And in making those decisions is it better to focus on tomorrow's or today's welfare? Carol Graham, a researcher of "happiness economics" with a decade long track record, examines these issues in The Pursuit of Happiness: An Economy of Well-Being (Brookings Institution Press, $24.95), a 164-page hardcover book published this year.
The book is divided into five chapters: Happiness: A New Science, What We Mean by Happiness: A "Theory" of Agency and Well-Being, Happiness Around the World: What We Know, Adaptation and Other Puzzles, and GNH versus GNP?
Her international research and that of her colleagues has led her to what she calls the paradox of happy peasants and frustrated achievers, she explains in the first chapter. Around the globe she has found that poor people are on average less happy than wealthy people but very poor people often are very happy; poor people often say they are happier than the slightly wealthier among them and even the very rich.
In the absence of abject poverty (and in some cases excess wealth), health concerns, uncertainty, divorce, inflation and unemployment, it seems people across the world are amazingly resilient and adaptable; able to find a constant level of contentment (as defined by them in open ended survey responses), according to Graham.
She indicates that much evidence establishes that happy people are healthier and perform better in the labor market and may have a greater ability to lead purposeful lives than less happy people. Some happiness may be ideal, leading to contentment and purposefulness while too much happiness may lead to complacency, low performance at work.
Graham is a senior fellow in Global Economy and Development and Charles Robinson Chair in Foreign Policy at the Brookings Institution. She is also College Park Professor at the University of Maryland's School of Public Policy. Her previous books include Happiness around the World: The Paradox of Happy Peasants and Miserable Millionaires, and Happiness and Hardship: Opportunity and Insecurity in New Market Economies.
---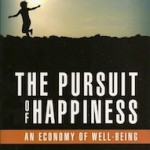 Click to buy The Pursuit of Happiness
---