Posted by Elena del Valle on December 4, 2015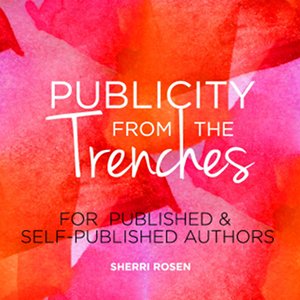 Publicity From The Trenches
Photos: Sherri Rosen
Because of the fast moving publishing environment gaining attention in the increasingly crowded space of digital and print books can be challenging for new and experienced authors. Some authors know little about publicity self promotion.
Keeping that in mind, Sheri Rosen, head of Sherri Rosen Publicity in New York City wrote a book. She believes that in order to do publicity for a client's book the publicist must care about the book. She shares tips based on her experience and knowledge with a touch of self promotion in a book for authors. She published Publicity From The Trenches: For Published and Self-Published Authors Paperback, (CreateSpace Independent Publishing, $19.99), a 132-page softcover book (the PDF review copy had 124 pages) March 2015.
The book is peppered with colorful designs and photos, and highlighted quotes. In the section titled The Bottom Line About Publicity, she asks readers, "Imagine publicity with your style, your natural fit, your price, and always your personal satisfaction. Sounds too good to be true, doesn't it? We thought so, too, but every day, we strive to be a truly custom publicist. That's our bottom line."
Sherri Rosen, author, Publicity From The Trenches
She points out that authors are a business and it requires promotion. At the same time, they should spend their time writing while someone with the experience and interest in their work promotes their book. About social media she says it can do a help and also it "… can be a tangled web of wasted time…" Further on in the book she talks about the importance of branding, building a platform and personalized publicity.
Before leading her own publicity company for 17 years, Rosen was in live theater in New York City. According to her website, she writes articles for the Examiner.com, Elephant Journal.com, TheGoodmenProject.com, and for her own Redhead's Rap Blog.
---
Click to buy Publicity From The Trenches
---