Posted by Elena del Valle on July 7, 2009
Information provided by our Event Partner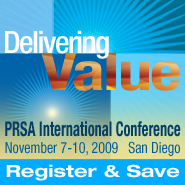 Delivering Value
November 7–10, San Diego
Discover bottom-line boosting strategies, best practices and real-world advice to improve your bottom line.
·  Attend sessions on the hottest topics — social media, crisis communications, branding and sustainability — taught by more than 175 experts.
·   Network with thousands at our events and luncheons.
·   Join free-flowing conversations with industry gurus and career counselors.
·  Gain insights from our keynoters — Arianna Huffington,The Huffington Post; and Todd Buchholz, former White House director of economic policy and commentator on "Marketplace."
Save by registering by September 25! www.prsa.org/conf2009