Posted by Elena del Valle on July 29, 2013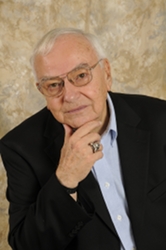 Carl Helvie, RN, author, You Can Beat Lung Cancer
Photo: Carl Helvie
A podcast interview with Carl Helvie, RN, Dr. PH, author, You Can Beat Lung Cancer (see Cancer survivor tells how he did it with alternative, integrative methods), is available in the Podcast Section of Hispanic Marketing & Public Relations, HispanicMPR.com. During the podcast, he discusses surviving lung cancer with alternative interventions with Elena del Valle, host of the HispanicMPR.com podcast.
Carl is a registered nurse with two masters (University of California, Johns Hopkins University) and a doctorate in public health and wellness (Johns Hopkins University) and 60 years of experience as a nurse practitioner, educator, author, and researcher. He has been recognized with the Distinguished Career in Public Health Award from the American Public Health Association in 1999 and listings in Who's Who, Who's Who in Virginia, Who's Who in American Nursing, Outstanding Educator in America, Men of Achievement, American Men and Women of Science, and a listing on Wikipedia. He has published eight books and contributed chapters to four additional ones. He is a 39-year lung cancer survivor who after being given six months to live by conventional medicine personnel turned to natural interventions.
To listen to the interview, scroll down until you see "Podcast" on the right hand side, then select "HMPR Carl Helvie, RN" or click on the play button below. You may download the MP3 file to your iPod or MP3 player to listen on the go, in your car or at home by clicking on "Get HMPR Podcast" above the podcast player. The podcast will remain listed in the July 2013 section of the podcast archive.
---
Click to buy You Can Beat Lung Cancer
---