Posted by Elena del Valle on November 21, 2014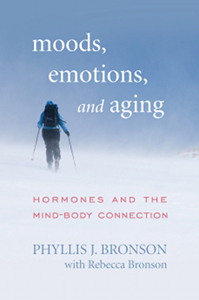 Moods, Emotions, and Aging Hormones
Photo: Rowman & Littlefield
In Moods, Emotions, and Aging Hormones and the Mind-Body Connection (Rowman & Littlefield, $29.39) Phyllis J. Bronson, Ph.D. with Rebecca Bronson, Ph.D. address the relationship between hormones and an aging woman's moods. According to the book, she believes hormone replacement with bioidentical hormones that mimic those naturally produced in the human body and nutrients help aging women control their moods and find wellness.
She is also convinced that women need to accept themselves regardless of their age. Many of her patients, she says, describe finding joy in midlife by identifying a balance of hormones and vitamins, minerals and amino acids. She points out that despite common usage of the same words to describe natural and synthetic hormones they are different and have profoundly different effects on a woman's body.
The 179-page hardcover book published in 2013 is easy to read and at times soulful. It is divided into an Introduction, Appendix and eight chapters: In Defense of Estrogen, The Truth About Progesterone, Mood Chemistry, The Connection Between Body Type and Hormones, Weaving the Web: How Hormones Are Central to the Female Psyche, Sexuality, Emotions and Relationships, and Diseases of Aging/Adventures in Aging.
Phyllis Bronson, who has a doctorate in biochemistry, is president of Biochemical Consulting and The Biochemical Research Foundation. Her research focuses on the biological impact of molecules on mood and emotion. She relies on her research on human identical hormones in her work with women suffering from hormone-based mood disorders. After working in the biochemistry industry for years, Rebecca Bronson dedicated herself to writing and yoga. As of the writing of the book she was teaching yoga and managing a yoga studio.
---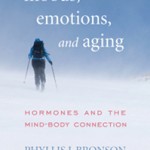 Click to buy Moods, Emotions, and Aging
---