Posted by Elena del Valle on April 20, 2012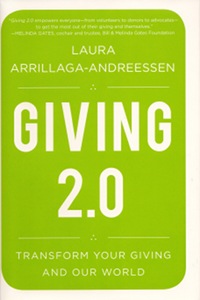 Giving 2.0 book cover
Giving can be challenging I discovered last year when searching for a home for a small grant. Potential recipients often balked when asked to share basic information about their organization's mission and leadership. Those who were willing to respond to initial vetting queries required one year or longer before they were able to apply the monies and others still wanted to receive funding with no strings or almost no strings or reporting requirements attached. What is an individual wishing to donate to a good cause while ensuring the monies reach a responsible recipient matching the giving goals to do?
Laura Arrillaga-Andreessen, author, Giving 2.0: Transform Your Giving and Our World (Wiley's Jossey-Bass, $25.95) offers some answers in her book. As a young adult she was inspired to devote much of her time to philanthropy by her parents. Although she felt "frustrated and isolated" following the death of her mother at the beginning of her journey of giving she pressed forward to a solution by creating an organization to assist individual donors.
Eventually her efforts led her to write the book published October 2011. Her main goal in writing the book was to assist readers who already had decided to give on how to do so effectively. She defines giving as a donation of any amount of money, skills, networks, expertise or time. Anyone who gives anything is a philanthropist, she says in the book.
In the book, Arrillaga-Andreessen refers to a website related to the book in which she promises additional information about the issues she discusses in Giving 2.0 and updates on the topic. She identifies the sections of the book for which she has information on the website with a "Giving 2.0" icon. According to the information in the book, the author plans to donate all the royalties resulting from the sale of the book to philanthropic organizations.
The 312-page hardcover book is divided into nine chapters: Giving Yourself, Connecting the Drops, Charting A Course, Determining A Destination, Game Changers, Something Ventured, Changing Minds, Family Matters, and In the Trenches; and four appendices.
Arrillaga-Andreessen, president, Marc and Laura Andreessen Foundation is a director of the Arrillaga Foundation and a board member of Sand Hill Foundation, Stanford University School of Education, SIEPR (Stanford Institute for Economic Policy Research), Women's Health at Stanford Medical Center, and an Advisory Council Member of the Global Philanthropy Forum, according to her biography. She is also a contributing author of Local Mission, Global Vision – Community Foundations in the 21st Century.
---
Click to buy Giving 2.0
---