Posted by Elena del Valle on April 8, 2011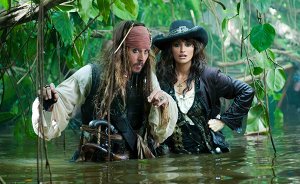 Johnny Depp and Penelope Cruz in Pirates of the Caribbean: On Stranger Tides
Photos: Disney Enterprises, Inc., Peter Mountain
Disney, Jerry Bruckheimer and Johnny Depp are at it again. Next month a fourth Pirates of the Caribbean movie will hit theaters nationwide. This time Penélope Cruz, the increasingly popular Spanish actress has joined the infamous pirate troublemakers. Click below to see two videos in English with previews of the film Pirates of the Caribbean: On Stranger Tides.

Pirates of the Caribbean 2011 poster in Spanish

Johnny Depp as Captain Jack Sparrow
The skull often seen representing The Pirates of the Caribbean franchise was transformed for the latest film to include a mysterious X scar on the left side of the face, new beads, a pearl in the gold front tooth, blond streaks in the hair, skeletons hanging from the last trinket on the beaded dreadlock, a hidden Mickey on the left dreadlock and swimming mermaids engraved on the hand guard of the right sword.
Pirates of the Caribbean – click to enlarge
The Skull features the red bandana Captain Jack Sparrow wore in all the films of the Pirates of the Caribbean series. According to promotional materials red was a popular color with pirates, who preferred more colorful dress; it was also a color synonymous with "giving no quarter."
The crossed swords, or pirates' cutlasses, purportedly have a special meaning: When the crossed swords face upward, they indicate readiness for battle. When the swords point downward, they signify the end of conflict. Down-pointing crossed swords are a common military symbol on graves or memorials signifying death in battle. On the teaser poster the swords are pointing downward.