Posted by Elena del Valle on June 22, 2012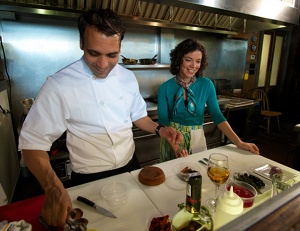 Chef Carlos Rodriguez with Margarita Martinez, host of Neighborhood Kitchens, at Orinoco, a restaurant in Boston's South End
Photo: WGBH
Last Sunday viewers of WGBH, a PBS station in Boston, had a chance to see the premier of Neighborhood Kitchens, the television content producer's new 30-minute program about well known neighborhood eateries in the Massachusetts area. The season will have 12 episodes, each one profiling one restaurant in Boston and Cambridge, which will air for six weeks and resume with new episodes from September through October 2012. Producers hope to eventually find private sector sponsors and expand the geographic scope of the program to most of New England.
Filming began March 2012 and is scheduled to continue throughout the summer. The series initial season will feature a heavy Latin theme with cuisine from Venezuela, Brazil, Dominican Republic, Mexico and Peru as well as an Italian restaurant and a New American restaurant with menus heavily influenced by Latino executive chefs.
For inclusion, restaurants are "considered by their overall excellence in food and service, as well as having a significant tie to the neighborhoods they reside in. The restaurants featured are all established eateries, with very strong reputations in their communities; (they) are all excellent in the cuisine they present, as well as being part of the fabric of the neighborhoods they reside in; every restaurant chosen is really beloved by the residents in their neighborhoods," according to a station spokesperson who indicated that suggestions for restaurants may be sent to the station.
The first restaurant featured was Orinoco, a popular Nuevo Latino Cuisine style restaurant with Venezuelan roots and three locations in Boston. During the 27-minute program, Chef Carlos Rodriguez demonstrates for viewers and the program's host how three of his dishes are prepared: a portobello arepa (a Venezuelan style cornmeal dish) with Latin truffle (a corn fungus infused) cream, a salmon marinated in panela raw sugar and a torta fluida molten chocolate cake.
Bronx born Margarita Martinez, a trained actress and graduate from New York University's Tisch School of the Arts, hosts the series. Patricia Alvarado Nuñez is the series producer and has the final word on restaurant selection.
Neighborhood Kitchens can be seen on WGBH in Massachusetts, and parts of New Hampshire and Rhode Island. Viewers can also see the episodes online at wgbh.org/neighborhoodkitchens after the primary broadcast play. The first episode is already available at wgbh.org/programs/Neighborhood-Kitchens-1859/episodes/Orinoco-in-Bostons-South-End-39469