Posted by Elena del Valle on April 21, 2010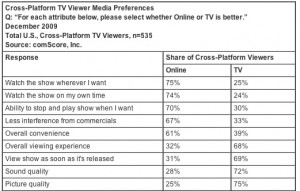 Click on image to enlarge
Photo, chart: comScore
According to a study released last month, people who watch television online are young (54 percent are 35 years old and under), likely to watch programs where and when they choose and more tolerant of ads than regular television viewers. Study participants were asked questions designed to assess their tolerance of advertising (based on one minute increments from 0-15 minutes) when watching one hour of TV programming on the Internet. Analysts determined the highest tolerance for online TV watchers was between six and seven minutes per hour which is much higher than the four minutes per hour of ads delivered online as part of TV content.
Although survey respondents thought sound and picture quality were better on television, most participants in the study, 75 percent, said they choose to watch TV programming online because it is possible to watch it wherever they want (within the United States as many televisions programs are not available online in foreign countries); 74 percent said they do so because they can watch the shows whenever they want; 70 percent preferred watching television programs online because of the stop and play option; and 67 because there is less commercial interference.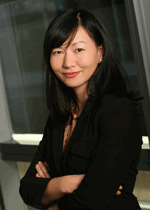 Tania Yuki, director, online video and cross-platform product at comScore
"As cross-platform TV viewing becomes more widely adopted, it is important to understand the driving forces behind this shift in consumer behavior if we are to effectively monetize this emerging medium," said Tania Yuki, comScore director of online video and cross-platform product, in a press release. "While some analysts have suggested that the shift to online video reflects a consumer desire to view fewer ads, our research suggests that in many cases online TV viewers actually have a higher tolerance for advertising messages than they are currently receiving. This finding, of course, suggests there's advertising revenue being left on the table and that media companies have not yet extracted full value out of the online medium."
Young TV viewers among the survey respondents said they are most likely to watch television programs at the time of their choosing; only 35 percent of viewers age 18-24 (25-34 year olds behaved similarly) said they watched episodes live; 42 percent said they watched programs at a different time within one week of the original air date and 23 percent said they watched the programs more than one week after the original air date.
Researchers in the comScore study distinguished three segments of television programming viewers. Those who only watched television, TV-only viewers, (65 percent); those that watched television programs on television and online, cross-platform viewers (29 percent); and those who watched televisions programs only online, online-only viewers (6 percent). Study analysts compared the attitude differences between the three groups. The study, based on a survey of more than 1,800 U.S. Internet users who watch originally scripted TV content, was first presented by Tania Yuki at the ARF Re:think conference on March 23, 2010.
According to a comScore spokesperson the study did not include ethnic profiling. However, independent data suggests Hispanics skew young as a demographic group and over index in the use of the internet, making it possible, even likely, the findings of the study apply to Hispanics who watch television programs online.