Posted by Elena del Valle on September 25, 2015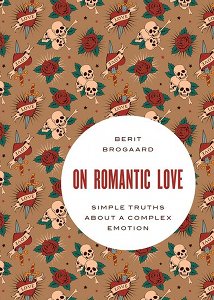 On Romantic Love
Photo: Oxford University Press
Love is an emotion and as such may be rational or irrational. It may be experienced in degrees; it may be conscious and unconscious; and it may be controlled so that we may fall in and out of love. So says Berit Brogaard, professor of Philosophy, University of Miami.
In On Romantic Love Simple Truths About A Complex Emotion (Oxford University Press, $21.95) a hardcover 270-page book published this year, Brogaard attempts to get to the bottom of love's many contradictions. The book includes black and white photos and original line drawings by illustrator Gareth Southwell.
Why does it matter? She explains that love, unlike marriage, seems to lead to happiness. The reference to love is not only about romantic love. Other forms of love such as friendship, parental, sibling, and companion also are linked to feeling blissful.
George E. Vaillant, a researcher she quotes in the book, says: "Happiness is love, Full stop." He concluded after years of study on the subject that the ability to be intimate with another person was a strong predictor of health and happiness. The author believes that is too strong a statement. In its place she suggests instead that rational love leads to happiness.
Brogaard's previous book, Transient Truths, was published in 2012. In her academic research she specializes in philosophy of language, philosophy of mind, and the cognitive sciences.
---
Click to buy On Romantic Love
---