Posted by Elena del Valle on December 3, 2012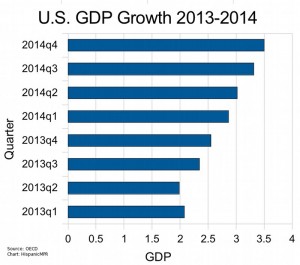 U.S. GDP Growth 2013-14 – click to enlarge
Assuming fiscal cliff issues are overcome the economy will continue a steady recovery over the coming two years, according to researchers at Organization for Economic Co-operation and Development (OECD). Our GDP is projected to grow 2 percent next year and 2.8 percent in 2014. Compared to Europe, estimated to remain in a recession and contract through the end of 2012 and into 2013 before reaching a GDP growth of 1.3 percent, the projections for the United States seem positive. Even when compared with GDP growth across the OECD of 1.4 percent for 2013 and 2.3 percent for 2014, the expectations of the United States appear promising.
"The world economy is far from being out of the woods," said Angel Gurría, secretary-general, OECD during the Economic Outlook launch in Paris last week. "The US 'fiscal cliff', if it materialises, could tip an already weak economy into recession, while failure to solve the euro area crisis could lead to a major financial shock and global downturn. Governments must act decisively, using all the tools at their disposal to turn confidence around and boost growth and jobs, in the United States, in Europe, and elsewhere."
With 50 million jobless people in the OECD area, according to the Outlook it's no wonder the OECD head expressed concern. The report indicated continued high in employment with a possible rise in many countries "unless structural measures are used to boost near-term employment growth."
Some developing countries, on the other hand, show desirable growth for the coming twenty four months. China is expected to grow at 8.5 percent next year and 8.9 percent the year after that. Other countries expected to grow at healthy rates are Brazil, India, Indonesia, Russia and South Africa.
Slides of the presentation are available at http://www.slideshare.net/OECD/oecd-economicoutlook92%20 on the OECD website. The mission of the Organisation for Economic Co-operation and Development is to promote policies that will improve the economic and social well-being of people around the world.