Posted by Elena del Valle on August 19, 2011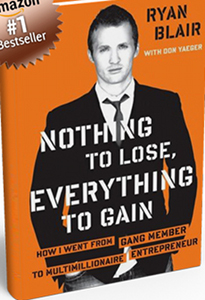 Nothing to Lose book cover
Photo: Higher Level Group
When Ryan Blair was a boy he suffered hardships and made bad choices that led to unfortunate results. As a young man his life took a better turn and eventually he became a self-made multimillionaire and serial entrepreneur. He established his first company, 24-7 Tech, when he was twenty-one years old, and has since created and actively invested in multiple start-ups.
More recently, as the head of ViSalus Sciences during the height of the 2008 recession he turned the company around from near failure to more than $10 million a month in only 15 months.
Blair recently shared some of his life and business experiences and opinions in Nothing to Lose, Everything to Gain: How I Went from Gang Member to Multimillionaire Entrepreneur (Portfolio Hardcover, $25.95), a 214-page softcover book divided into eighteen chapters.
The author believes that people with nothing to lose have great potential. He is convinced that his street smarts and nothing-to-lose attitude account for his success in life.
"There is nothing more dangerous than someone with nothing to loose," he says. "Just like an animal backed into a corner your survival instincts kick in." In the Epilogue he also says that "No matter how successful you are, you have to take every last day and live it as if you had everything to gain."
---
Click to buy Nothing to Lose, Everything to Gain
---