Posted by Elena del Valle on June 18, 2010

Bicycle Tire by Julio Figueroa Beltrán
Photos: Accentmarketing
Driven by a former agency principal turned artist a Miami ad agency established Accent Alternative Art Space, a not-for-profit art initiative focused around real estate dedicated to non-commercially driven artwork by emerging and mid-career artists. Those behind the project hope it will foster "ideas that are outside of the mainstream scope of artists' commercial galleries while harnessing local talent and culture."
The mission of the project is to bring unknown, local talent to the forefront of the community's art scene. Participating artists spend no monies to exhibit and receive all the proceeds of any sales, according to a project spokesperson. Killing and Salting, the premiere exhibit, opened last week featuring the work of seven local Cuban-American artists.
Astronaut by Julio Figueroa Beltrán
"There is so much unique art outside of the mainstream art scene that goes unnoticed," said Esteban "Steve" Blanco, founding partner, Accentmarketing. "Our goal is to catapult these talented artists into the thick of it- no competition at all. In fact, we welcome all art galleries to come and pick up our featured artists."
Blanco retired in 1993 and dedicated himself to art. When the warehouse adjacent to his art studio became available, he invested in the space to offer it to promising artists as a platform to build their work. According to an agency representative, artists of all creeds and races are encouraged to submit their work for consideration. Blanco will be the official decision maker on all artists to be selected for inclusion in exhibits. Agency executives hope the initiative will promote an artistic culture among its staff and contribute to Miami's art scene.
"Accent Alternative Art Space is truly a passion project that is 110 percent committed to enriching Miami's local art community as well as helping fellow artists," said Diana Ocasio-Fant, executive vice president and creative director, Accentmarketing. "As an agency of creative individuals we want to reach out to the community regarding the importance of the arts, so this is a win-win for us because we can develop our own art while helping others do the same."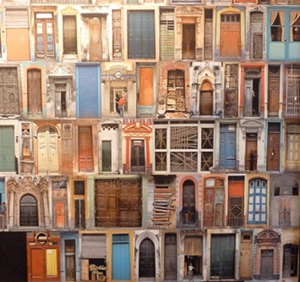 Door Collage by Miguel Angel Báez
Accentmarketing, an ad agency based for 20 years in Coral Gables, a ritzy municipality in Miami, has painters, graphic art designers, creative writers, musicians and performing artists within the company ranks. Established in 1994, the Hispanic marketing communications agency has offices in Miami, Los Angeles and Detroit. Clients include the American Heart Association, Dunkin Donuts, Farmers Insurance, GobiernoUSA.gov, Chevrolet, the California Association of Realtors, Kaiser Permanente, Brown-Forman and the U.S. Navy.