Posted by Elena del Valle on May 17, 2010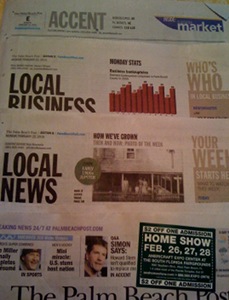 Staff cuts not withstanding many media outlets have survived the transition from traditional formats to today's multimedia mix. It may be that the new formats brought some changes for the better such as increased efficiency. For example, at some media outlets a single enterprising young journalist reports, produces and captures video footage for his or her story. And newspaper editors express satisfaction with the new technology oriented staff that have been brought on board in recent years and their willingness to try new things.
In spite of that future funding is a source of concern for many news executives when it comes to the long term viability of their media outlets, according to a recent study. Alternative funding options, including government financing, are not appealing for them and they worry about their outlet's survival over the next decade unless they are able to figure out a viable source of funding to replace the old business model.
Two thirds of survey respondents had serious reservations about receiving government subsidies and 78 percent were not interested in accepting funding from interest groups. About 50 percent were worried about funds from government tax credits and more 33 percent had doubts about private donations.
Online most of the media efforts are focused, according to the participants in the survey, on traditional sources of revenue such as display and banner ads. These remain the main area of effort and the one survey respondents had the highest hopes would yield results. Another area under consideration was revenue from products outside of news.
The results of the survey, conducted by Pew Research Center's Project for Excellence in Journalism in association with the American Society of News Editors (ASNE) and the Radio Television Digital News Association (RTDNA), were released last month.
"Our mantra this year is experiment and fail quickly," said a newspaper news executive who participated in the survey. "Don't be afraid of change and don't stick with something too long if it doesn't work."
"Outside funding options are a bad idea overall," said a broadcast news executive survey respondent. "They are being used to 'save' old models of journalism that are no longer economically viable and will die out over time no matter what."
Interestingly, there were significant differences between the attitudes of survey respondents from newspaper-based newsrooms and those of broadcast outlets including their view of journalism's future. Broadcast news executives were more pessimistic with almost twice as many respondents who viewed journalism as headed in the wrong direction compared to those who thought it is headed in the right direction. Newspaper news executives were slightly more optimistic.
Many executives in marketing, advertising and public relations may believe the future of media is closely linked to their career future and seek an understanding of the possible direction of print and broadcast media to better serve their clients and their professional futures.
The researchers received responses from 353 journalism executives from the ASNE or RTDNA membership lists after inviting them to participate in the online survey by email between December 2009 through January 2010. Of the 353 news executives 36 percent were ASNE members and 24 percent were RTDNA members.