Posted by Elena del Valle on August 17, 2012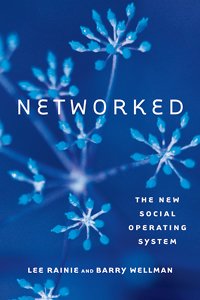 Networked book cover
Photo:The MIT Press
Lee Rainie, director, Pew Research Center Internet & American Life Project and Barry Wellman, S.D. Clark Professor of Sociology, University of Toronto believe digital communications via social media and smart phones, contrary to what others fear, are expanding learning opportunities, problem solving, decision making and personal relationships.
In Networked The New Social Operating System (The MIT Press, $29.95), published this year, they discuss the triple revolution they are convinced is transforming society in North America, sometimes for the better. The revolution the describe involves social networking, the internet and mobile digital devices.
At the beginning of the book, they illustrate what they see as the power of the revolution with the case of a couple who suffered from serious medical issues and thanks to their network of friends and acquaintances who knew them from professional and personal relationships asked for and received emotional and financial support. The authors believe people are now functioning within "networked individualism" that connects them to others in their circle of contacts in a novel way made possible by the triple revolution.
The 358-page hardcover book is divided into three sections: The Triple Revolution, How Networked Individualism Works, and How to Operate in a Networked World, Now and in the Future; and eleven chapters. In the final chapter, they discuss the future of networked individualism and their belief that social networks will play greater roles in people's activities as well as the four areas they anticipate will be the source for issues relating to networked individualism in the future: internet, legislative, norms of social behavior within the network and technological commerce and related issues such as devices and apps.
---
Click to buy Networked
---