Posted by Elena del Valle on January 18, 2012
Loteria, a bilingual board game, will be available in the United States in Spring 2012
Photos:G.S. Schwartz & Co. Inc.
Techno Source, a division of LF Products, and FremantleMedia Enterprises (FME), the commercial and brand extension of FremantleMedia, expect to sell to Mexican Americans "hundreds of thousands of units a year" of Loteria, a $5.99 board game that is popular in Mexico. Loteria is Spanish for lottery.
Toward that end and assuming the country's large Hispanic population will be interested in their new product last month they announced a licensing agreement whereby Techno Source will sell Loteria board games made in Shanghai, China in the United States. The game is expected to arrive at mass and specialty retailers in spring 2012.
Eric Levin, division head, Techno Source
"The primary market for Loteria is the Mexican-American population. It is such an iconic game that anyone with Mexican heritage knows and loves from childhood. Now they can easily buy Loteria for their families here in the USA and pass along this great tradition," said Eric Levin, division head, Techno Source when asked about the target audience for Loteria. "Additionally, it is a great family game, appropriate for everyone ages 6 and up. It includes English and Spanish translations, so it's easy for those who are fluent in either language and also a great teaching tool for those who wish to learn. Techno Source has been tracking the growth in the Hispanic population and hearing steady feedback from our retail partners that they are looking to better serve this population in their stores. This was a natural fit and is and great way to bring an extremely well known product to the US market."
According to promotional materials, Loteria originated in Italy in the 1400s and was introduced to Mexico in 1769 where it became very popular. Loteria is a bingo style game of chance that uses colorful, iconic images of Mexican culture on playing cards instead of numbers on ping pong balls.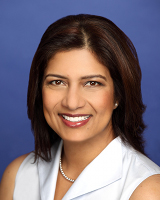 Naz Cuevas, senior manager, Consumer Products, FME
"We are excited to work with Techno Source to bring the Loteria family board game with its deep cultural roots and recognizable imagery to families in the U.S." said Naz Cuevas, senior manager, Consumer Products, FME. "Their marketing expertise and vast distribution network will allow us to reach the young Hispanic market, the fastest growing segment in the U.S. with more than 44 million people, and also broaden the audience for this historic brand."
Techno Source, a division of LF Products and part of Li & Fung Limited, is one of the fastest growing global toy companies. The Techno Source game portfolio includes 20Q, Tetris, Disney, Rubik's, Nickelodeon, Bicycle (The United States Playing Card Company), Intellivision, Guess What I Am!, and Electronic Touch-Screen Sudoku.
FremantleMedia Enterprises is a full-service brand building company that specializes in rights management and exploitation across multiple platforms such as consumer products, sponsorships, interactive and mobile, and live events. FME's portfolio of third-party brands includes Rebecca Bonbon, a girls fashion brand designed by Yuko Shimizu, the original creator of Hello Kitty; Endless Summer, a beach culture and lifestyle brand inspired by the 1964 cult classic film; Condè Nast lifestyle brands Self and Epicurious, and Bellator, a mixed martial arts fighting championship brand.