Posted by Elena del Valle on October 28, 2014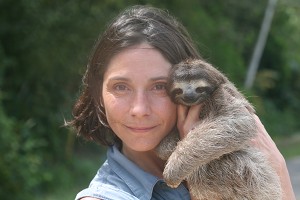 Ana Salceda poses with a sloth rescued from a hazardous road crossing in Panama
Photos: Thirteen Productions LLC
In these times of extensive development many are forced to leave their placid homes to make way for malls, residential complexes and commercial projects. Such is the case for sloths in parts of Latin America. In Panama, for example, the expansion of the Panama Canal has forced wild animals out of their habitats.
Among those affected are sloths. On November 5 between 8 p.m. and 9 p.m., Nature, a PBS series, will air for the first time A Sloth Named Velcro, a 50-minute documentary about sloths filmed in Panama, Costa Rica and Colombia. An editorial video clip without a hold harmless clause was not available for this article.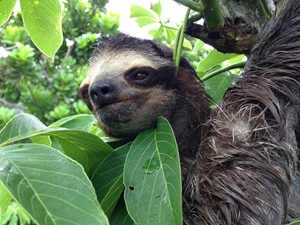 An adult sloth high in the canopy in Panama
The film is centered around Ana Salceda, a Washington D.C. area-based Spanish print and television journalist, as she returned to Central and South America to document sloth conservation efforts. Years earlier, while on assignment in Panama, she adopted a baby two-toed sloth she named Velcro. Her relationship with Velcro sparked an interest in sloths that remains alive today.
"I hope viewers see beyond sloths' cute Mona Lisa smiles, and realize how fascinating, complex, and vulnerable they are. I hope they're inspired by people like Tinka Plese, who is featured in the film and whose Aiunau Foundation rehabilitates displaced sloths and returns them to the wild," she said about the documentary in promotional materials provided by the network. "And I hope my relationship with Velcro shows people how nourishing the human-animal connection can be, how it brings us closer to nature, and to ourselves."
A mother sloth surrounds her young offspring in Panama
For many years, sloths were believed to be lazy animals who slept for most of their existence. Lately, they have become a hot topic among scientific researchers and black market pets. The film points to new studies that show the gentle creatures are not so sloth-like. To demonstrate their point Ana joins Bryson Voirin and his colleagues from the Max Planck Institute as they carry out a landmark study in the field about the sleep habits of sloths. Voirin discovered that, as opposed to their captive relatives, wild sloths sleep only about as much as humans. According to other studies, sloths are not as solitary as scientists used to think, they have social structures, and males keep harems. Surprisingly, recent research indicates sloths move like primates, only upside-down. The documentary features two-toed, three-toed and pygmy sloths.
A Sloth Named Velcro was produced by BelugaSmile Productions and Thirteen Productions LLC. Nature is a production of Thirteen Productions LLC for WNET. While PBS declined to provide budget numbers for the project, some of the funding sources were:  Arnhold Family in memory of Clarisse Arnhold, Sue and Edgar Wachenheim III, Estate of Elizabeth A. Vernon, Lillian Goldman Charitable Trust, Kate W. Cassidy Foundation, Filomen M. D'Agostino Foundation, Susan Malloy and Sun Hill Foundation, Corporation for Public Broadcasting and public television stations.