Posted by Elena del Valle on February 1, 2010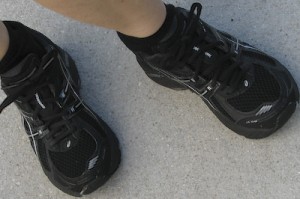 Many young women wear comfortable shoes to work and change into stylish shoes on arrival
Many moons ago, I won't say how many, someone I held in high regard said to me that a lady could always be identified in two ways, by her hair style and the shoes on her feet. Yesterday's lady is today's working woman. Whatever the driver is many women who work today have a fondness or fascination for shoes. For career minded women shoes, 64 percent according to a recent Mintel survey, are the preferred accessory to complete an ensemble.
Respondents to the survey on women's attitudes towards work attire indicated they favor shoes and dress boots over other types of accessories. After footwear jewelry was the second most popular embellishment while purses, belts and scarves were the least likely additions; 52 percent of working women said they finish their looks with necklaces, earrings and bracelets. Only one third of women said they rely on purses, belts and scarves.
As women age they are less likely to change from comfortable into stylish shoes once they are at work. About 44 percent of women surveyed aged between 35 and 44 said they change into more stylish footwear on arrival at work while only less than a third of women 35 and up said they do that.
"Shoes and boots have come into the fashion forefront as women look for ways to make their outfits stand out," said Kay Fay, senior analyst at Mintel, in a press release. "Demanding shoe styles, especially those with sky high heels, aren't ideal for walking long distances. But many young women don't care; they're perfectly content to cart in a second pair of shoes so they can commute in comfort yet look stylish in the office."
Most women who participated in the survey, 82 percent, said they dress for themselves; and only 34 percent said they dress to be fashionable. Among respondents, young women were the most concerned with trends; 46 percent of young women, aged 18 to 34, like to follow trends. While only 33 percent of women overall said they like to try new styles, 47 percent of women aged 18 to 24 responded that they like new designs. No information on preferences by ethnic or racial group was available from the survey.
The survey was conducted online in August 2009 among a sample of 503 women parents aged 18 and older who had access to the internet and who worked outside the home. Mintel is an international supplier of consumer, product and media intelligence.
---
"Happy for No Reason" audio recording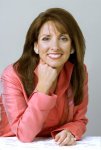 Presenter Marci Shimoff, author, Happy for No Reason
What: An audio presentation by Marci Shimoff and Q&A with Marci Shimoff and HispanicMPR.com audio program host Elena del Valle about finding happiness.
Available exclusively on HispanicMPR.com!
Click here to listen to a short interview with Marci
Click here for more information on "Happy for No Reason" audio recording with Marci Shimoff
---