Posted by Elena del Valle on March 5, 2012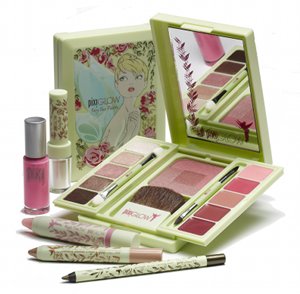 The PixiGlow Collection sold only at Target
Photos: Target, Victoria's Secret
At what age do girls begin wearing make up? Perhaps because adult women are spending less on beauty products cosmetics makers are increasingly targeting tween girls between nine and twelve as well as older teens aged 13 to 17. Nearly half of young girls and many of their parents, however, don't think the girls are old enough to wear make up, according to Teens' and Tweens' Beauty Market US December 2011, a report resulting from a Mintel survey.
From 2007 to 2009, girls aged 8 to 12 who said they regularly use mascara and eyeliner increased to 18 percent from 10 percent for mascara, to 15 percent from 9 percent for eyeliner and to 15 percent from 10 percent for lipstick, according to a new report from the NPD Group, a consumer research company. Women, on the other hand, are wearing less make up. Perhaps because of the downturn in the economy women appear to be cutting back on beauty products to save money and unemployed women may be less inclined to apply make up every morning, according to the NPD report.
Researchers at Mintel believe marketers who want to win over young shoppers should offer products that are subtle in appearance while at the same time safe for young skin; they believe that body lotion and nail polish are the most likely to gain acceptance among have tweens and their parents.

A Victoria's Secret runway model with "wings"
Responses to the survey indicate teens like CoverGirl, Maybelline, Wet n Wild, Victoria's Secret and Avon products while tweens favor Bath & Body Works for body lotion. A spokesperson for Victoria's Secret replied to an email question about the company's percentage of beauty products sales to girls aged nine to seventeen and best selling products for this market segment as follows: "Unfortunately I'm unable to provide this information."
Two relative newcomers targeting young girls with affordable products were mentioned in the Mintel report, Geogirl, a line sold at WalMart and promoted as environmentally responsible; and PixiGlow, inspired by Tinker Bell and sold at Target stores.
Petra Strand, creator of the Pixi cosmetics line, teamed with The Walt Disney Co. to design the PixiGlow collection. To develop the vintage look of the line Strand worked closely with character artist John Quinn. Products priced between $8 and $34 are available online are are expected to become available at Target stores beginning March 2012. According to the retailer's website, the PixiGlow extension line offers six color cosmetics exclusively at Target: Catching Shadows Crayon ($18), Fairy Dust ($14), Fairy Face Palette ($34), Magic Tink Tint ($16), Straight On 'til Morning Liner ($15), and Pirouette Pink Nail Colour ($8).

Willa lip gloss trio
"While I can't say exactly what our best selling tween/teen beauty product is, I can tell you that Target offers a range of affordable cosmetics that appeal to tweens who are developing their individual style and beginning to experiment with makeup. Brands that appeal to the tween guest include Target's exclusive Hello Kitty beauty collection, Caboodles, Wet & Wild and e.l.f. We also anticipate that the forthcoming tween natural skincare line Willa will be popular, said Evan Miller, spokesperson for Target. "PixiGlow, while created with a more mature beauty guest in mind, does appeal to our younger guest as well because of the link to Tinkerbell and Disney."
According to the Mintel report, the least frequent users of makeup were tween girls between 9 and 12 and the most frequent daily users of cosmetics were those aged 15 to 17.