Posted by Elena del Valle on March 20, 2014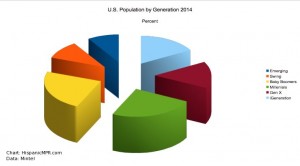 U.S. Population by Generation Percent – 2014 – click to enlarge image
In 2014, there were 78.3 million Americans aged 20 to 37. This market segment, often described as Millennials, represents a quarter of the country's population. Almost one in five (19.4 percent) Millennials is Hispanic, 14.8 percent is Black, and 5.2 percent is Asian, making the group among the most diverse, according to Marketing to Millennials US February 2014 Executive Summary, a Mintel report.
While Baby Boomers protect their private data, 60 percent of Millennials who responded to Mintel questions said they would be willing to provide details about their personal preferences and habits to marketers. Even for private information these young adults are open minded. Among respondents to the Mintel questions, 30 percent of Millennials said they would share personal information in exchange for a financial incentive such as a $10 discount. Only 13 percent of Baby Boomers who answered the question said they would be willing to do the same.
"Millennials are predisposed to share their personal habits and contact information with marketers, but they do so only when the perceived benefits outweigh the risks. Given that their generation accounts for nearly a quarter of the population, the implications for businesses are tremendous, because as Millennials go, so goes the US economy," said Fiona O'Donnell, category manager, retail, multicultural, lifestyles and leisure, Mintel, in a press release.
Millennials said they are more likely to share cell numbers and social media profiles with companies than Baby Boomers (30 percent compared to 14 percent and 27 percent compared to 10 percent, respectively). Baby Boomers said they were more willing to share a mailing address, 40 percent versus 38 percent of Millennials. For the most private information, credit scores, 17 percent of Millennials and 8 percent of Baby Boomers were willing to provide the information.
The generational groups represented in the Mintel report are Baby Boomers (23.6 percent), Emerging (9 percent), Gen-X (15.4 percent), iGeneration (16.9 percent), Millenials, Swing (10.5 percent). Baby Boomers are aged 50 to 68, Emerging are under seven years old, Gen-X is 38 to 49, iGeneration is seven to 19, and Swing are 69 and older.