Posted by Elena del Valle on September 2, 2016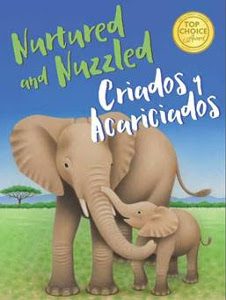 Nurtured and Nuzzled
Photos: Platypus Media
Washington, D.C. company Platypus Media recently published Nurtured and Nuzzled, Criados y Acariciados (Platypus Media, $9.95), a bilingual booklet for children up to five years of age featuring pretty color illustrations by Mike Speiser. The project required thirty months from concept to review copy publication. The biggest challenge it faced was the translation.
When asked what prompted her to publish Nurtured and Nuzzled Dia Michels, publisher, Platypus Media, said, "Books are like food; they nourish us. Our work, as book publishers, is to excite kids about reading and to give adults the tools they need to keep kids engaged in books. Research shows that kids who love reading are more successful in life. And the latest research on the Word Gap, tells us that brain development is dependent on exposure to words and interactions with adults. We were not looking to publish an early childhood book when Mike Speiser's art landed in our mailbox, but once we saw it, we knew it needed to be put into the world. Books have the power to change lives and, we hope that, in a small way, we can be a part of that process."
"I chose species that people could relate to," Speiser replied by email when asked how he selected the animals for inclusion. "There are so many animals to choose from, but they have different levels of appeal. Some of them you can't possibly use. You don't get a warm feeling when you look at, say, armadillos. A locust has a fascinating life, but no one wants to know about locusts. There are plenty of other species that are appealing, so I picked those. Elephants, penguins and flamingos have universal appeal. I want to do something for the planet. Connecting with people is my way of doing that. Almost everything we care about stems from our childhood experiences. I was lucky. When I was young, I had parents who were very attentive. We always had a cat and she had several litters of kittens. Being a witness to birth had a huge impact on me. I have been drawn to capture the magnificence of animals ever since. Picking animals that have broad appeal encourages readers of the book to help life. It is my way of celebrating life. "I want to reach children at that special age because that's when their brains are developing really quickly. If I can get them to love animals when they are young, I can make a different in that child."
Dia Michels of Platypus Media
"Originally the book was all about the artwork and the messaging," Michels said when asked why she decided on a bilingual book. "In the winter of 2015, I was speaking at the National Fathers and Families Coalition of America conference in Los Angeles. I had a prototype of the book with me. A number of the attendees suggested it would be a more powerful book if it were bilingual. They stressed that adding Spanish would allow us to reach more kids, and, more importantly, kids who could really benefit from a book like this. I listened, and, as soon as I returned to the office, we started redesigning the book to add the second language."
After researching bilingual education (she referred to sciencenaturally.com/files/BilingualEd.pdf) she became convinced that there were more Spanish speakers in the U.S. than there are in Spain; "that nearly 25 percent of all K-12 students in the U.S. are Latino—and the percentage is growing." She went on to say that the numbers were compelling.
Mike Speiser, illustrator, Nurtured and Nuzzled
"Nurtured and Nuzzled, Criados y Acariciados was our first bilingual book," said Michels when asked about similar projects in the future. "Once we made the commitment to make it bilingual, we wanted to carry that commitment to our other projects. Our sister company, Science, Naturally, produces math and science books for upper elementary and middle school. We are incredibly excited about the release of our first bilingual book for this list, One Minute Mysteries: More Short Mysteries You Solve With Science! Misterios de un minuto: ¡Más misterios cortos que resuelves con ciencias! It is the bilingual edition of our best-selling One Minute Mystery books. We are now working on the bilingual edition of our bestselling math book: One Minute Mysteries: Short Mysteries You Solve with Math!, Misterios de un minuto: ¡Misterios que resuelves con matemática! will be released in April 2017. We will carry this commitment forward and work to create bilingual products for the foreseeable future. We hope to do another early childhood book with Mike Speiser exploring different habitats, but it is still on the drawing board."
The work of Speiser, an artist who lives next to the Black Hills of South Dakota, has been featured on the covers of Wild Animal Baby magazine and on fundraising products for science organizations. His paintings have been displayed at the Leigh Yawkey Woodson Art Museum. He is involved with efforts to protect the natural world for future generations. He sent his wok to Platypus Media after seeing If My Mom Were A Platypus at his local library.
---
Click to buy Nurtured and Nuzzled – Criados y Acariciados
---