Posted by Elena del Valle on December 7, 2009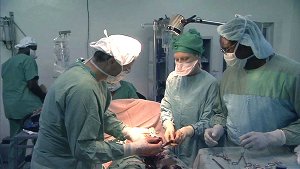 Dr. Lepora with Dr. Krueger in surgery in Liberia
Photo and videos: Red Floor Pictures Production
In mid 2005, Mark Hopkins began production of a film about Medecins Sans Frontiers (MSF), the well known international emergency assistance organization spearheaded by volunteer physicians and health care providers, and its work, mostly in Africa. It required much convincing and gaining of trust on his part to win Doctors Without Borders, as it is known in English, over to the idea of a no holds barred film of their volunteers in the field. Hopkins describes the film as exploring the limits of idealism. Scroll down to watch two video clips of the documentary.
"I hope they get a sense of what life in the field is like for MSF doctors. Beyond that, hopefully an unburdened sense of interest in the humanitarian arena: an understanding that these guys are not heroes, they're not saving the world, and that the work is engaging and rewarding in its own right – it doesn't need ideas of big accomplishment to justify itself – the patient in front of you is more than enough. We didn't make the film to deliver a message, the idea was more to immerse people in the MSF environment," said Hopkins about the purpose of the project and what he hopes the audience gains from viewing the film.
Nearly four years after filming of Living in Emergency began the film is ready to open in theaters nationwide as a Red Floor Pictures release. Ten people worked on the project made possible with a modest $1.7 million budget provided by private individuals who the promoters declined to identify.
"The reason for the time delay is that documentaries take a long time to make. The crew began filming in mid-2005 and filmed on and off for 12 months. The editing ran for 18 months. The film was finished in 2008, premiered at the Venice Film Festival, spent the last 12 months playing at festivals, and is now building up to its widespread release," a film spokesperson explained when asked about the delay between the film and release dates.
From July to September 2005, the crew filmed in Beni and Kayna, two towns in the Democratic Republic of Congo (DRC), especially the MSF hospital and its environs. Next, they traveled to the Liberian capital of Monrovia to film at MSF's Mamba Point Hospital, where MSF was providing emergency care following the Liberian Civil War; and to the remote northern towns of Foya and Kolohun.
In October 2005, the crew traveled to Kashmir, Pakistan to film the MSF emergency response to the 7.6 magnitude earthquake. In 2006, they returned to Africa, to revisit Mamba Point Hospital, and traveled to Malawi to see the MSF AIDS program. Additional film locations included Paris, France, Montreal, Canada, Niger, Kenya, and Tennessee, United States. The production was organized to cover the various facets of the MSF organization such as the administrative base, conflict and post-conflict missions, and response to natural disasters.
Hopkins, born in Puerto Rico and raised in Italy and Kenya, worked for producer Scott Rudin for several years before producing his first solo documentary film. He was most recently the producer of Going Upriver: The Long War of John Kerry. Living in Emergency is his directorial debut. Bruno Coulais, composer, and Bob Eisenhardt, senior editor, also contributed to the film.
Doctors Without Borders/Médecins Sans Frontières (MSF) is an international medical humanitarian organization created by doctors and journalists in France in 1971 that strives to provide independent, impartial assistance to those most in need. The organization, a recipient of the 1999 Nobel Peace Prize, provides aid in more than 60 countries to people whose survival is threatened by violence, neglect, or catastrophe, primarily due to armed conflict, epidemics, malnutrition, exclusion from health care, or natural disasters.
According to promotional materials, on any one day, more than 27,000 individuals representing dozens of nationalities are providing assistance to people caught in crises around the world. They are doctors, nurses, logistics experts, administrators, epidemiologists, laboratory technicians, mental health professionals, and others who work together in accordance with MSF's guiding principles of humanitarian action and medical ethics. The majority of these aid workers are from the communities where the crises are occurring; only ten percent of teams are made up of international staff.