Posted by Elena del Valle on May 18, 2009
It took Matt Reyes a month to design and create Twitteros, a social networking site to extend the conversation from Twitter among Latino users, in December 2008 and now he has 200 subscribers. According to the website the portal reaches 691 users every month and 74 percent of them are in the United States. It skews toward educated, middle aged people with a slightly higher percent of men than women.
"So I recently stumble upon Twitteros I thought it was an interesting concept since its sort works like a lounge where all Latinos that Tweet get together, so I do go there once in a while to follow the new Latino members that join the Twitteros site," said Steve Alfaro, digital director, Voto Latino Online.
Despite the familiar sounding name, the new portal is not affiliated in any way with Twitter, the well known micro blogging portal. Twitteros is divided into Main, My Page, Comunidad and Advertising sections. Discussion categories are Culture, Technology, Business, Music, Movies, Politics, Food, Fashion, Travel, Art, Immigration and Religion.
After reading Get Back in the Box by Douglas Rushkoff Reyes was inspired to build "something from the bottom-up where Latinos could have a voice and use it to be influential online." A user of Twitter for the past year, Reyes believes the members of his new website are the ones that build the content and "do all the help." Anyone who wants to contribute as a digitally influential Latino is welcome to join, he said by email.
"I created this site with the knowledge that Latinos are social by nature, whether it be through activism, art, or just having a good time. There are currently no websites that have a sole focus on digitally influential Latinos," said Reyes, creator of Twitteros. It is my belief that Twitter gives everyone a chance to have their voice heard. Members are not only active on Twitter but are also active with blogging. With these tools, we are truly giving the internet what it craves."
The Austin, Texas resident explained that since Twitter doesn't offer group and community support, Twitteros.net fills that void. He relies on word of mouth to promote his website. When he is not devoted to his Twitteros portal, Reyes does new media consulting, design, and development for brands and organizations for his company, the Department of Influence.
Reyes describes himself as a digital influence strategist. He believes Twitteros offers brands and organizations the chance to create custom word-of-mouth programs to engage their customers in an open and transparent way. The portal offers advertising to cover operating expenses. Designer Chris Bomely created a Twitteros mascot which is described by Reyes as a Latino version of the Twitter Bird.
---
"Search Engine Marketing to Hispanics" audio recording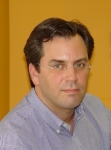 Presenter Matias Perel, founder and president, Latin3
Find out about
The 16 million Latino online users
Types of online access among Hispanics
Latino online user language preferences
What they do online
Usage by age
Income levels among Hispanics who visit the Internet
Internet use by Hispanics
Click here for information on Search Engine Marketing to Hispanics
---