Posted by Elena del Valle on June 6, 2011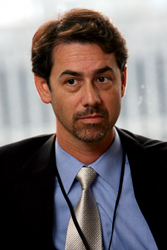 Eric Granof, chief marketing officer, AIA Holdings
Photo: AIA Holdings
A podcast interview with Eric Granof, chief marketing officer, AIA Holdings is available in the Podcast Section of Hispanic Marketing & Public Relations, HispanicMPR.com. During the podcast, Eric discusses marketing bail bond services in the United States with Elena del Valle, host of the HispanicMPR.com podcast.
Eric joined AIA Holdings in 2009. He is responsible for developing and executing marketing initiatives for the company as well as working with AIA's agents in the area of marketing. Prior to coming to AIA, Eric was president of the Thunder Factory, a San Francisco marketing company. While at the Thunder Factory, Eric served as a consultant to AIA and ExpertBail, developing the company's original branding strategy.
In 17 years of marketing, Eric has worked with Microsoft, Nissan, Kaiser Permanente, MARSH, HP, Apple, Caesars Palace, Bank of America and Cabela's. A native of Southern California, he resides in Agoura Hills with his wife and two children.
To listen to the interview, scroll down until you see "Podcast" on the right hand side, then select "HMPR Eric Granof" click on the play button below or download the MP3 file to your iPod or MP3 player to listen on the go, in your car or at home. To download it, click on the arrow of the recording you wish to copy and save it to disk. The podcast will remain listed in the June 2011 section of the podcast archive.
---