Posted by Elena del Valle on September 1, 2012

I'll Have What She's Having book cover
Photo: The MIT Press
In what ways does social learning shape human behavior? In other words, does what a friend or acquaintance think or say affect what someone does? If the well known scene of the movie When Harry Met Sally where Sally, while having lunch with Harry at a deli, fakes an orgasm in a loud way audible to her neighbors prompting one of the patrons of the deli to order "what she is having" from the waiter is to be believed social behavior is clearly impacted by the behavior of others.
Alex Bentley, Mark Earls and Michael J. O'Brien believe that social learning affect social behavior in a variety of ways, expending from an individual outward to a community and population. In I'll Have What She's Having Mapping Social Behavior (The MIT Press, $22.95), a book with an an academic tone published last year, they describe their ideas about social learning and its impact on society. They believe that many people are lazy, relying on others to think and store knowledge.
The book, they say in the Preface, is meant to provide a human behavior map to readers. According to the authors, people are "beset with emotions and cognitive biases, and much of the time we avoid thinking altogether" instead of the calculating and rational beings some like to believe they are. The social nature of evolution and behavior affects culture, especially among masses of people in modern times, they say.
Social learning drives the spread of culture and human behavior and diffuses innovations, according to the authors. To understand the learning patterns they identified three models: diffusion, cascades and undirected copying. The 146-page hardcover book is divided into seven chapters: Out of the Trees; Rules of the Game; Copying Brain, Social Mind; Social Learning en Masse; Cascades; When in Doubt, Copy; and Mapping Collective behavior.
Bentley is professor of anthropology and archeology at the University of Bristol, United Kingdom. Earls is a London-based author and marketing consultant. O'Brien, dean, College of Arts and Science, professor of anthropology and director of the Museum of Anthropology at the University of Missouri.
---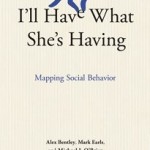 Click to buy I'll Have What She's Having
---