Posted by Elena del Valle on July 19, 2010
A scene in Papas Brujería
Photos, videos: Heineken USA
Heineken USA is relying on Mexican humor and folklore to win the loyalty of Mexican Newcomer consumers, Mexican men between 21 and 34 years of age living in the United States less than 10 years. The beer maker recently launched Tecate Light Papas, a broadcast, out-of-home and retail marketing campaign, including three Spanish language 30-second ads filmed and produced in Mexico City, Mexico, for Tecate Light. Scroll down to watch the three ads in Spanish.
The Tecate Light Papas television commercials, which took three months to film and produce in Mexico, are scheduled to air concurrently from May to September 2010 on Univision, Telemundo, Azteca America and Estrella TV in markets where the beer is available, including Arizona, California, and Texas.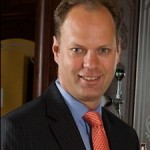 Christian McMahan, chief marketing officer, Heineken USA
"With this installment of Tecate Light's Papás campaign, we're creating continuity of two characters that connect emotionally with the brand's core consumer, Mexican men making a living in the U.S. Most importantly, by incorporating humoristic and visual elements that only they would understand, Tecate Light is further positioned as an authentic Mexican light cerveza that offers them much more than just another light beer option," said Christian McMahan, chief marketing officer, Heineken USA.
The three spots, peppered with Mexican slang, humor and culture and the brand tagline "Por los que quieren más" ("For those who want more"), feature two Mexican parents whose son, José, lives in the United States and drinks light beers that, according to the ads, don't compare to the flavor of Tecate Light.
A scene in Papas Garrafon
In one of the ads, for example, the mother, who believes that her son has been cursed into drinking other brands, performs a limpia, or a cleansing, on his portrait. In the second commercial, the parents become clearly agitated as the local water boy walks by the house offering his services, reminding them that their son prefers watered down beers.
A scene in Papas Gringos, the third ad with replacement parents
In the third ad an American couple pretend to be José's parents and talk to him in a heavily-accented Spanish. Soon his real mother and father appear saying "Since you keep drinking light beer from over there, does it mean you're also looking to replace us?" The ad closes with the American and Mexican dads comparing their pronunciation of light beer.
The three commercials were directed by Simón Bross, who also help create Tecate's Anthem 3 campaign released in April 2010 (see Heineken launches new Tecate Spanish language ad campaign targeting men 21 to 34). Adrenalina, the brand's advertising agency, created the ads; Media Vest's MV42 Degrees handled the media buy.
Manuel Wernicky, president, Adrenalina
"The Papás have become iconic characters who represent the different mindsets newcomers experience as they straddle two worlds," said Manuel Wernicky, president, chief ideas officer and managing partner, Adrenalina.