Posted by Elena del Valle on April 9, 2012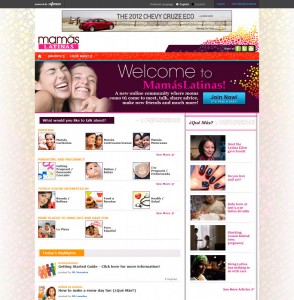 Click to enlarge
Photos: MamásLatinas
Hoping to expand the reach of CafeMom, founded in late 2006 by Andrew Shue and Michael Sanchez with the support of lead investors Highland Capital Partners and Draper Fisher Jurvetson, earlier this year the company launched MamásLatinas targeting the Hispanic mom market.
Company executives are convinced that MamásLatinas fills a major gap in the mainstream digital and social environment. Before launching the new venue CafeMom staff conducted a major national study. According to a spokesperson, the study revealed that 92 percent of Hispanic moms across the acculturation spectrum believed there was no website that clearly met their needs. Anticipating that by 2014 one in four moms online will be of Hispanic heritage they moved forward.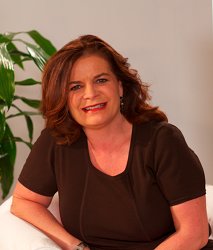 Lucía Ballas-Traynor, co-founder and executive vice president, MamásLatinas
"With the right Hispanic leadership and Hispanic lens, in the trails of the Census 2010 disclosing of Hispanic population exponential growth, launching a Latina-centric brand seemed like a win-win solution, both from a business and consumer standpoint," said Lucía Ballas-Traynor, co-founder and executive vice president, MamásLatinas, by email.
"MamásLatinas goal is to super serve Hispanic moms across the total spectrum –languages spoken, nativity and country of origin, age, or geographic location. Our site is the first online bilingual destination for Latina moms with two core offerings, an online community and a content platform called ¿Qué Más?. The online community consists of broad-appealing groups, where conversations cover a wide array of topics (Bienvenidas, LaPlaza); and groups that specifically target moms by country of origin (Mamás Mexicanas, etc.), or by the age of their kids; or even by passion touch points (Beauty, Puro Español)."
MamásLatinas relies on 10 full-time staff writers and editors as well as freelance writers, bloggers and columnists who write 35 original English and Spanish articles a day for ¿Qué Más?, according to Ballas-Traynor who indicated that the channel provides a venue for Latina moms to find opinion pieces about topics of interest to them and what people are talking about including news and culture, fashion/beauty, food, and parenting from their cultural perspective and sensibility, in English or Spanish, or both. Twenty-one writers including two mean are listed on the site as of this writing.
To spread the word the company plans to promote the site on Google and Facebook. Additional marketing efforts being implemented include offline media partnerships, public relations and paid marketing strategies.
"We are poised to become one of the leading online destinations dedicated to Latinas by the end of the year and the leader among Latina moms. We are aggressively marketing the site and encouraging our members to tell their friends. Our number one goal for this year is to push brand awareness and new members. We know there is tremendous opportunity for growth, but we don't yet have a firm projection for the first year," said Ballas-Traynor.
CafeMom employs 140 people and MamásLatinas shares many of the CafeMom resources especially those in areas of Product (technology, developers and design), Research, Marketing, PR and Sales and Sales Operations.
The new New York based site has the following founding sponsors: Chevrolet, General Mills, K-Mart and Sears. CafeMom boasts a reach of 20 million at CafeMom.com, MamásLatinas, CafeMom Studios, and the CafeMom Plus Network.