Posted by Elena del Valle on August 29, 2014
David and Goliath
Photo: Hachette Book Group
Author photo: Brooke Williams
We are impressed by size and strength, assuming giants, people or companies, should win in an encounter, according to Malcom Gladwell, a journalist and author. He believes that "much of what is beautiful and important in our world comes from adversity and struggle."
In David and Goliath Underdogs, Misfits, and the Art of Battling Giants (Little Brown and Company, $29) he discusses how while the giants might be winners most of the time, sometimes the underdog might overcome adversity to vanquish the superpower. The 305-page hardcover book published in 2013 is divided into three main parts and nine chapters in which he explores the general theme of underdogs overcoming the odds to excel.
He explains at the beginning that facing overwhelming circumstances "produces greatness and beauty," and that being disadvantaged in a lopsided conflict changes people, sometimes for the better. The lesson, he concludes, is that the powerful and strong are not always as we perceive them.
Malcolm Gladwell, author, David and Goliath
Throughout the book he uses examples to illustrate the points he wishes to make about how it is possible that a disadvantage such as dyslexia or loosing a parent at a young age may make people stronger than they might otherwise have been in the absence of the hardship. In other words, what doesn't kill us might make us strong and able to beat a difficult situation to our favor.
Many American presidents and British prime ministers suffered the loss of a parent in their youth at a higher rate than the general population, he says. He points out that while such a loss is common among society's losers it is also in evidence among its winners and wonders whether such a situation might become an advantage.
To research the chapter on the Troubles in Northern Ireland he spent a summer in Belfast. He was surprised to discover how small the areas in dispute, that had played a major role in British politics for three decades, were. Goliaths, he says, still win most of the time. The thing to remember is that they don't win all of the time, and perhaps not nearly as often as we might expect them to.
Gladwell, a staff writer at The New Yorker since 1996, lives in New York. Prior to this book, he wrote What the Dog Saw, Outliers, Blink, and The Tipping Point.
---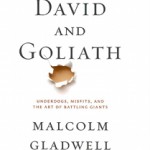 Click to buy David and Goliath
---