Posted by Elena del Valle on July 22, 2011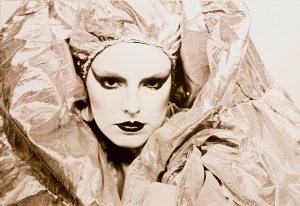 De De by Patssi Valdez
Photos: Thomas Paul Fine Art
A West Hollywood, California art gallery specializing in twentieth century and contemporary American and European art will host a new exhibition, Valdez/Jacinto: 80's Portraits, featuring the work of Patssi Valdez and Louis Jacinto. The exhibition will coincide with the Los Angeles County Museum of Art's exhibition: Asco: Elite of the Obscure, A Retrospective, 1972-1987, and Pacific Standard Time (Getty Research Institute). Valdez/Jacinto: 80's Portraits will run from September 17, 2011 until November 5, 2011 at Thomas Paul Fine Art, 7270 Beverly Boulevard, Los Angeles. A reception for the artists will be held at 6 p.m. September 17.
The artists are part of the Asco Movement (Disgust Movement) of the 1970s and 1980s named in reference to the feelings of its members at the exclusion of Chicano artists from the Los Angeles County Museum of Art (LACMA). Thomas Paul Fine Art will showcase photographs from Valdez' Asco period along with her most recent paintings and gouaches, offering an extensive view of her artistic career. Jacinto, another artist and photographer who worked in Los Angeles during that period, began photographing in Los Angeles in 1975. Valdez and Jacinto recorded the turbulent shifting of cultural identities and social realities that would form a part of the history of Los Angeles.
Sunday by Patssi Valdez
"We selected these two artists to showcase their works in conjunction with the LACMA retrospective of the ASCO group. Patssi Valdez was one of the four founding members of ASCO in 1972, and its only female member. Also, this show is part of the Getty Institute's Pacific Standard Time project, a collaboration of exhibitions across Southern California that focuses on art in the LA area from 1945-1980," said Thomas Schnebeck, gallery administrator, Thomas Paul Fine Art.
Thomas Paul of Thomas Paul Fine Art
"As Patssi's exclusive representative we are delighted to be able show works from her Asco period that have never been seen before. Additionally, we are pleased to represent the works of Louis Jacinto, a longtime friend of Patssi's who documented Asco in the 80's and produces similar work of his own."
The exhibit will feature between 14 and 18 pieces of Valdez' large photographs, each measuring about 32 x 48 inches, in editions of three. Ten will be Valdez' other photographs and a few of her more recent surrealist paintings. The emphasis of the show is the photographs. Fifteen of Jacinto 80s photographs will be included. The photographs will be on sale for $3,000 to $8,000; the price of the paintings is to be determined.
"My paintings portray an actual and or imagined place that depict an inspirational or emotionally charged feeling or experience. They are snippets of environments that I consider meaningful and symbolic of my individual as well as collective Chicano experience," said Valdez.


Photographer Louis Jacinto
Jacinto is a painter and photographer as well as a social and political activist. He photographed many Asco events in the 1970s and 1980s. According to promotional materials, as a member of the Asco collective, Valdez, an urban Chicana, strove to challenge and dismantle the sexist and racist images assigned to her. Photography offered the ideal vehicle in which to express her theatrical skills and sense of melodrama and to counteract the confining and unflattering images of Chicanas held by society at that time.
In her self-portraits, Valdez became the Chicana Hollywood icon that was missing from the big screen. These glamorous, positive images called upon a rejection of ethnic stereotypes in Hollywood and allowed her to cope with the emotional pain of her childhood.