Posted by Elena del Valle on September 28, 2009
Photo: Lon Safko
A podcast interview with Author Lon Safko is available in the Podcast Section of Hispanic Marketing & Public Relations, HispanicMPR.com. During the podcast, Lon discusses social media issues and his book with Elena del Valle, host of the HispanicMPR.com podcast.
Lon is the creator of the "First Computer To Save A Human Life." That computer, along with 18 inventions and more than 30,000 of Lon's papers, is in the Smithsonian in Washington, D.C. He created numerous hardware and software solutions for the physically challenged, developed the first CAD software for civil engineers, and designed the archetypes for the Apple Newton and Microsoft's Bob Operating Systems.
He is also responsible for the Tool-Tips help-balloon pop-ups. Some of the awards Lon has received include: Westinghouse Entrepreneur of the Year, Arizona Innovation Network's Innovator of the Year, Arizona Software Association's Entrepreneur of the Year, and Public Relations Society of America's Edward Bernays Mark of Excellence Award.
Lon is the founder of nine companies, including Paper Models, Inc., which uses downloadable three-dimensional models in business advertising, promotions, and education. He has authored five books on: how to train managers to think creatively, how to launch a successful on-line business, and how new home owners can reduce building costs. His latest book The Social Media Bible Tactics, Tools, and Strategies for Business Success (see Business men outline social media basics…) addresses social media tools such as Facebook and YouTube.
To listen to the interview, scroll down until you see "Podcast" on the right hand side, then select "HMPR Lon Safko" click on the play button below or download the MP3 file to your iPod or MP3 player to listen on the go, in your car or at home. To download it, click on the arrow of the recording you wish to copy and save it to disk. The podcast will remain listed in the September 2009 section of the podcast archive.

---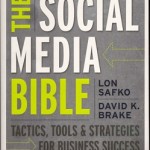 Click here to buy The Social Media Bible
---