Posted by Elena del Valle on June 21, 2010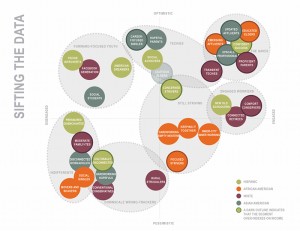 Sifting the Data – click on image to enlarge
Charts, photo: GlobalHue
A Michigan multicultural advertising agency, GlobalHue, invested a substantial budget on a survey last year to find out what America's cultural and lifestyle profile looks like. As a result agency executives believe there is a blurring of ethnic boundaries in our country. Based on the 2009 survey conducted by an outside company, the agency has concluded bicultural Hispanics are among the most successful and optimistic groups.
The survey of four major population segments was designed to create a comprehensive cultural map of the country to provide marketers updated information. Based on the findings the researchers believe that thanks to bicultural Hispanics' option to select the elements they prefer from various cultures this group is among the most successful and optimistic groups of those surveyed.
The study indicates the nation is increasing complex and is made up of distinct segments; that the population is splitting into a Bifurcation Chasm of the Engaged/Optimistic and the Disengaged/Pessimistic; that to predict consumer behavior, marketers must understand consumer groups by their current situation and by how they will be prepared to deal with the bifurcation, believed to be growing, in wealth and possibilities.
Specialists identified eight subsegments for each of the four segments surveyed resulting in 32 subsegments the result of the rapidly changing and diversified consumer market. Although they are aware of the cultural differences between people in the four segments, the researchers identified mixed-cluster groups of like-minded Americans in seven macrosegments with common mindsets, beliefs and values that impact consumers' feelings of optimism and pessimism and influence the degree of engagement in their communities.
For example, the macrosegment they called Haves represents 20 percent of the U.S. population, or 71 million people. It is the most optimistic and engaged group and enjoys the best economic and educational level. This segment, which they consider the most attractive initially for marketers, is also the most balanced across the different groups: Asian, 31percent ; Hispanic, 16.5 percent; African American, 21.5 percent; and non-Hispanic Whites, 16 percent.
Don Coleman, chairman, GlobalHue
"To understand the New America today requires more than a single cultural lens," said Don Coleman, chairman, GlobalHue. "Instead, it is as meaningful to look for cross-ethnicity similarities as it is to acknowledge cultural differences. With this report, marketers can clearly see a path for connecting with consumer segments from different groups simultaneously through cultural relevance."
According to the study, the most successful and optimistic Hispanic segments, as self-identified, are bicultural and feel empowered to pick and choose from multiple cultures. At the same time, the most acculturated Hispanic segments are the least successful and most isolated. These are Hispanics who are also the least likely to identify with a community, be bilingual or have strong ties to a country of origin. Many optimistic Hispanics are disengaged, young and like technology.
"The Hispanic segment of the study upends commonly held notions of acculturation," said Laura Marella, vice chairman, GlobalHue. "The message to marketers is that greater acculturation is, in fact, not a proxy for high-value consumers."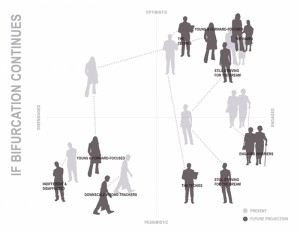 If Bifurcation Continues – click on image to enlarge
To complete the study interviewers contacted 8,309 people online and by phone, in a nationally representative sample, between June 22 and July 15, 2009, broken down by ethnicity as follows: Africanics: 1,777 respondents; Asian: 1,381; Latino: 1,994; non-Hispanic White: 2,748; and other: 409.
A questionnaire with 287 questions covered demographic information, lifestyle habits and attitudes, behaviors regarding media consumption and usage, and technology reliance and usage, as well as shopping, traveling, and entertainment habits. It included Trompenaars Hampten-Turner's seven cultural dimensions and a modified Myers-Briggs personality profile.
GlobalHue, a marketing communications agency, has 390 employees and offices in Detroit and New York. It has four divisions: GlobalHue Africanic; GlobalHue Latino; GlobalHue Asian; and GlobalHue Next. In 2009, GlobalHue's capitalized billings were $833.7 million. GlobalHue clients include Verizon, Walmart, Chrysler Group LLC, U.S. Navy, Bermuda Department of Tourism, U.S. Census Bureau, FedEx, MGM Grand Detroit and Merck.