Posted by Elena del Valle on June 29, 2009
Graphics: HispanicMPR, Vertis
For several years the media industry has been changing before our eyes. Slowly we witness a media revolution and evolution driven by outdated business models, the increasing availability of technology to an ever growing populace and consumers' mistrust of conventional media as well as the desire of some consumers to be part of the machinery that informs and opines.
As one of the latest large waves of immigrants Latinos are a significant consumer market for media because the Hispanic market is young, comparatively speaking, and growing. The most recent arrivals often have their own cultural preferences for media consumption and may even prefer Spanish language or bilingual options. Many among the millions of Latino immigrants or children of immigrants, usually the most affluent and best educated, have acculturated and mimic mainstream consumers in their media consumption habits.
Some data, including a Vertis Communications 2007 telephone survey of 500 Hispanic adults, indicates Latinos may spend more time watching television and surfing the web than their counterparts among established and emerging markets. Respondents to that survey also were 44 percent more likely to be influenced by information they found online than the total United States population.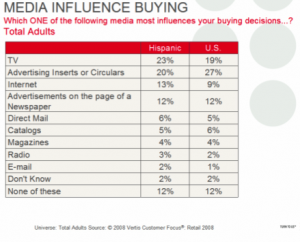 Although they may make many of their purchases offline they are likely to research choices, reviews and prices online before placing an order by phone or shopping in person. Vertis researchers concluded that Hispanic adult respondents were more likely than the overall population to buy consumer electronics, even when the economy was down. For example, 28 percent of Hispanics said they would buy a big screen or HDTV within 12 months while only 23 percent of non-Hispanics anticipated such purchases.
The survey also found that Hispanics with online access conducted the most internet research on electronics and clothing. At that time, 62 percent of Hispanics with internet access said they researched home electronics online prior to purchase compared to 59 percent of all United States respondents with internet access. Also, 38 of online Hispanics who participated in the survey said that they research clothes online before buying them compared to 30 percent of all online respondents.
The Vertis Customer Focus Opiniones survey is designed to track consumer behavior in retail, grocery, home improvement, fashion, home electronics, sporting goods, furniture, technology, auto aftermarket, financial and media such as direct mail marketing. The 2007 Opiniones survey conducted by Vertis was the most recent survey of that type conducted by the company, according to a company spokesperson.